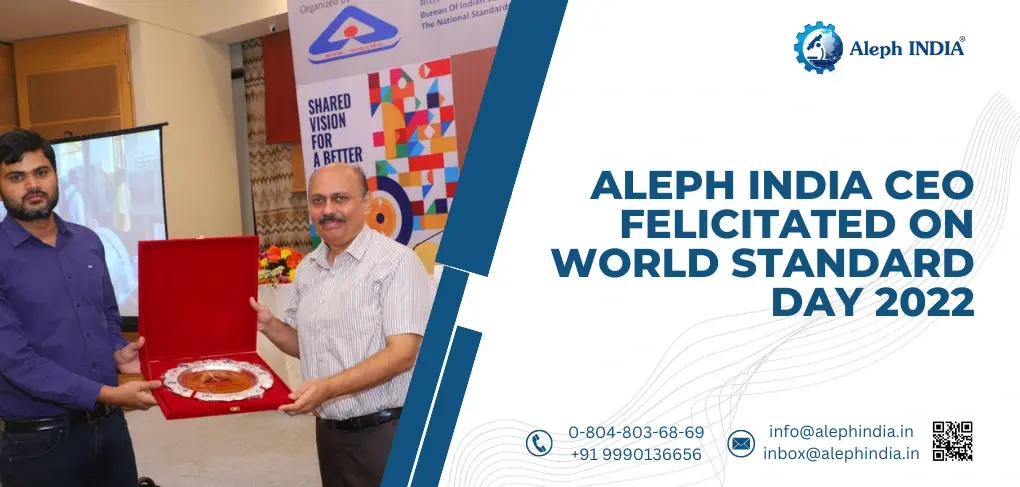 Aleph INDIA CEO Felicitated on World Standard Day, 2022
We are happy to share with you that BIS honoured Aleph India CEO and former DDG Shri A K Sharma on the occasion of World Standard Day.
Every year on October 14th, World Standards Day is celebrated to honour the collaborative efforts of thousands of experts worldwide to develop national and international standards. Every year, members of the IEC, ISO, and ITU celebrate it all over the world. On October 14, the Bureau of Indian Standards (BIS) observed World Standards Day. Aleph India CEO and former DDG BIS Shri A K Sharma attended this BIS event as a Guest and was honoured by BIS.
As a National Standards Body of India, BIS is in charge of granting quality certification and setting industry standards for products sold and distributed in India.
The day is celebrated to raise awareness among consumers, industry, and regulators on the importance of standardisation to the world economy and also to recognize experts throughout the world who are making ISO Standards. The international theme for World Standards Day, as issued by the ISO, is "Standards for Sustainable Development Goals - Shared Vision for a Better World."
As a leading BIS Consultant, Aleph INDIA Group provides a one-stop solution for all product regulatory compliance services such as product certification, testing, training, auditing, and many others. We help importers and manufacturers in obtaining certification and licenses under the various schemes of the government of India.