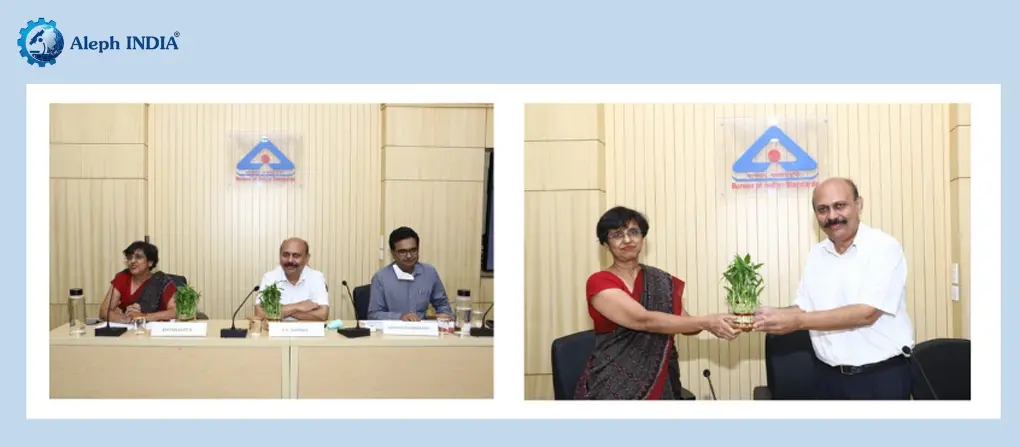 Aleph India CEO felicitated as a guest of Honour by BIS
We are pleased to share with you that Aleph India CEO and former DDG, BIS Shri A K Sharma, is felicitated as Guest of Honor by BIS DDG Smt. Chitra Gupta on the occasion of the BIS webinar.
BIS organized a webinar on the journey of QMS in its Manak Bhawan office in New Delhi on June 24, 2022. In this BIS Webinar, Aleph India CEO and former DDG BIS Shri A K Sharma was invited as a Guest. On this occasion, he was felicitated as Guest of Honor by Smt. Chitra Gupta DDG, BIS Foreign manufacturer certification scheme.
BIS regularly hosts webinars on Indian standards for Implementation and Awareness. As a Quality Management Organization in India, BIS is responsible for granting quality certification and setting industry standards for products sold and distributed in India.
Aleph India Group is a leading BIS Consultant in product testing and technical compliance for Indian regulatory requirements. Aleph INDIA Group has established itself as one of the most trusted names in the industry.
As a BIS consultant, we at Aleph India are here to assist you in obtaining BIS certification. Our BIS consultant will help you through each step to ensure that everything goes smoothly and on time. This will enable you to manufacture, import, or sell the product in the Indian market and grow your business.
Aleph INDIA serves the industry as a one-stop shop for all product regulatory compliance services. Aleph India assists manufacturers and importers in obtaining certification and licenses under the various schemes of the government of India. Our conformity assessment vertical will meet your certification requirements while ensuring a smooth certification process.