EPR Registration for E-Waste Management
What is E-Waste?
E-waste is one of the world's fastest-growing trash streams. India currently produces nearly 50 million tonnes of it per year, and the number is going to rise as electronic products become more widely available. E-waste, or electronic garbage, refers to obsolete, unwanted, or defective electrical and electronic equipment. That includes everything from smartphones to refrigerators that have reached the end of their useful lives.
"Refuse what you do not need; Reduce what you do need;
Reuse what you consume;
Recycle what you cannot refuse, reduce, or reuse;
And compost the rest"
E-waste contains a laundry list of compounds that are hazardous to humans and the environment, including mercury, lead, beryllium, brominated flame retardants, and cadmium, to name a few. These chemicals get up in our land, water, and air when electronics are mismanaged during disposal. Because electronic devices contain the most lethal chemicals and metal, e-waste is far more toxic than much other municipal garbage. Long-term exposure to these chemicals harms the brain, kidney, bone systems, and the reproductive and endocrine systems.
What is E Waste Management and How to achieve it?
E Waste Management is the technique of collecting the e-waste, recycling, reuse, and disposal it in an environmental friendly manner to minimize its harmful impact on environment and human health. E-Waste management has become a major challenge as it directly affects human health and the environment, and this is happening due to the lack of awareness. The growing problem of E-waste calls for greater emphasis on recycling E-waste and better E-management.
Proper control over the material used in the manufacturing process is important to reduce waste generation (Freeman1989). The quantity of waste generated can be reduced by reducing the number of hazardous materials used in the process and the amount of excess raw materials in stock. This can be done in two ways, i.e., establishing material-purchase review and control procedures and inventory tracking system.
TODAY'S ELECTRONIC ------- GADGET
TOMMORROW'S ELECTRONIC -------- WASTE
Guideline for EPR Authorization

EPR Registration for Manufacturers and Importers
The government passed the first law in 2011, based on Extended Producer Responsibility (EPR), which makes the manufacturer liable for managing the final stage of the life of its product in an eco-friendly way and ensures environmentally sound management. An Extended Producer's Responsibility (EPR) certificate or license is mandatory for every producer/importer producing electric or electrical equipment. It encourages manufacturers to produce environment-friendly products. EPR Authorization is issued by the Central Pollution Control Board (CPCB) under MoEFCC, Government of India.
As per the E-Waste (Management) Rules, 2016, all the manufacturers of Electrical and Electronics (EEE) products/equipments listed in schedule 1 are responsible for collecting, recycling and disposing the final stage of their EEE product from an authorized dismantler/recycler. As per the guidelines, manufacturers, and importers needs to tie-up with the authorized recycler to dispose of the E-Waste and submit all the plans related to the estimated dump quantity and method adopted for disposal in CPCB to get the EPR Certificate. In short, the product's manufacturer is responsible for the product's ultimate recycling, reuse, or disposal.
EPR - E-Waste (Management) Rules 2022
The Ministry of Environment, Forests, and Climate Change issued E-Waste (Management) Rules 2022 on November 2, 2022. This will go into effect on April 1, 2023.
As per this regulation, all manufacturers, producers, refurbishers, and recyclers shall have to register on the portal and collect e-waste generated during the manufacturing, refurbishing, or disposal of any electrical and electronic equipment and ensure its recycling or disposal. The Entities must register on the portal under the appropriate category, such as manufacturer, producer, refurbisher, or recycler. If an entity falls into more than one category, it must register under each category separately. It is illegal for any entity to conduct business without registration.
All entities shall have to file annual and quarterly returns in the prescribed form on the portal on or before the end of the month following the quarter or year to which the return relates.
These regulations shall apply to all manufacturers, producers, refurbishers, dismantlers, and recyclers engaged in the manufacture, sale, transfer, purchase, refurbishment, dismantling, recycling, and processing of e-waste or electrical and electronic equipment listed in Schedule I.
The Central Pollution Control Board may charge registration fees and annual maintenance fees on entities seeking registration under these rules based on the capacity of e-waste generated, recycled or handled by them, as determined by the Central Pollution Control Board with the approval of the Steering Committee.
The producer of electrical and electronic equipment listed in Schedule I must first register on the portal to obtain and implement extended producer responsibility targets as per Schedule III and IV.
Producers who have extended producer responsibility plans under the provisions of the erstwhile E-Waste (Management) Rules, 2016, shall migrate under these rules in accordance with the procedure established by the Central Pollution Control Board with the approval of the Steering Committee.
Benefits of EPR Registration Certificate
EPR promotes the recycling and reuse of the e-waste (Electrical and electronics waste), hence reduces the cost of raw material for the producers/manufacturers.
EPR ensures the management of e-waste in environmentally friendly manner, hence reduce the harmful impact of e-waste on environment.
EPR Authorization from Central Pollution Control Board (CPCB) enhance the goodwill of the product and brand reputation in the market.
EPR promotes sustainable development, hence lowers the waste generation and misuse of the natural resources.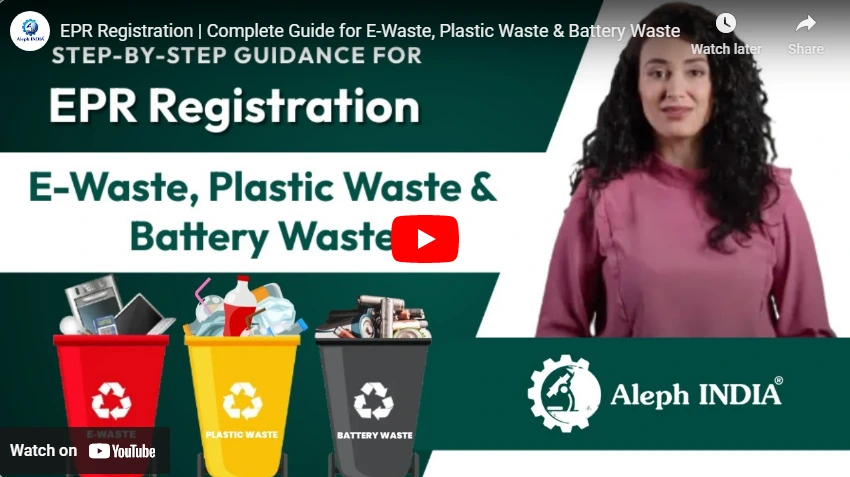 Mandatory Products List for EPR Registration
The two major product categories that require EPR Authorization are as follows.
Information Technology and Telecommunication equipment
Consumer Electrical and Electronics
Following are the list of products that require mandatory EPR Authorization for uninterrupted manufacturing and selling in the Indian market.
Sl.No.
Categories of electrical and electronic equipment
1
Information technology and telecommunication equipment:
Centralized data processing: Mainframes, Minicomputers
Personal Computing: Personal Computers (Central Processing unit with input and output devices)
Personal Computing: Laptop Computers (Central Processing unit with input and output devices)
Personal Computing: Notebook Computers
Personal Computing: Notepad Computers
Printers including cartridges
Copying Equipment
Electrical and Electronic Typewriters
User terminal and Systems
Facsimile
Telex
Telephones
Pay telephones
Cordless telephones
Cellular telephones
Answering System
Products or equipment of transmitting sound, images or other information by telecommunications
BTS (all components excluding structure of tower)
Tablets, I-PAD
Phablets
Scanners
Routers
GPS
UPS
Inverter
Modems
Electronic data storage devices
2
Consumer Electrical and Electronics and Photovoltaic Panels:
Television sets (including sets based on Liquid Crystal Display and light Emitting Diode Technology)
Refrigerator
Washing Machine
Air - Conditioners excluding centralised air conditioning plants
Fluorescent and other Mercury containing lamps
Screen, Electronic Photo frames, Electronic Display Panel, Monitors
Radio sets
Set top Boxes
Video Cameras
Video Recorders
Hi-Fi Recorders
Audio Amplifiers
Other products or equipment for the purpose of recording or reproducing sound or images including signals and other technologies for the distribution of sound and image by telecommunications
Solar panels/cells, solar Photovoltaic panels/cells/modules.
Luminaires for fluorescent lamps with the exception of luminaires in households
High intensity discharge lamps, including pressure sodium lamps and metal halide lamps
Low pressure sodium lamps
Other lighting or equipment for the purpose of spreading or controlling light excluding filament bulbs
Digital camera
3
Large and Small Electrical and Electronic Equipment
Large cooling appliances
Freezers
Other large appliances used for refrigeration, conservation and storage of food
Clothes dryers
Dish Washing Machines
Electric cookers
Electric stoves
Electric hot plates
Microwaves, Microwave Oven
Other large appliances used for cooking and other processing of food
Electric heating appliances
Electric radiators
Other large appliances for heating rooms, beds, seating furniture
Electric fans
Other fanning, exhaust ventilation and conditioning equipment
Vacuum cleaners
Carpet sweepers
Other appliances for cleaning
Appliances used for sewing, knitting, weaving and other processing for textiles
Iron and other appliances for ironing, mangling and other care of clothing
Grinders, coffee machines and equipment for opening or sealing containers or packages
Smoke detector
Heating Regulators
Thermostats
Automatic dispensers for hot drinks
Automatic dispensers for hot or cold bottles or cans
Large cooling appliances Automatic dispensers for solid products
Automatic dispensers for money
All appliances which deliver automatically all kinds of products
Indoor air purifier
Hair dryer
Electric shaver
Electric kettle
Electronic display panels/board/visual display unit
4
Electrical and Electronic Tools (With the exception of large- Scale Stationary Industrial Tools)
Drills
Saws
Sewing Machines
Equipment for turning, milling, sanding, grinding, sawing, cutting, shearing, drilling, making holes, punching, folding, bending or similar processing of wood, metal and other materials
Tools for riveting, nailing or screwing or removing rivets, nails, screws or similar uses
Tools for welding, soldering, or similar use
Equipment for spraying, spreading, dispersing or other treatment of liquid or gaseous substance by other means
Tools for mowing or other gardening activities
5
Toys, Leisure and Sports Equipment
Electrical trains or car racing sets
Hand-held video games consoles
Video games
Computers for biking, diving, running, rowing, etc.
Sports equipment with electric or electronic components
Coin slot machines
6
Medical Devices (With the Exception of All Implanted and Infected Products)
Radiotherapy equipment and accessories
Cardiology equipment and accessories
Dialysis equipment and accessories
Pulmonary ventilators and accessories
Nuclear Medicine Equipment and accessories
Laboratory equipment for in vitro diagnosis and accessories
Analysers and accessories
Magnetic Resonance Imaging (MRI), Positron Emission Tomography (PET) Scanner, Computed Tomography (CT) Scanner, & Ultrasound Equipment along with accessories
Fertilization tests equipment and accessories
Other electric appliances/equipment/kits used for preventing, screening, detecting, monitoring, evaluating, reviewing, examining, investigating, probing, treating illness sickness, disease, disorder, affliction, infection, injury, trauma, abuse or disability including the Mobiles, Tablets or any other device with the features having the potential of sex selection and their accessories
7
Laboratory Instruments
Gas analyser
Equipment having electrical and electronic components
How to Apply for EPR Authorization?
The process of EPR Authorization or EPR Registration involves the following steps mentioned below:
Documentation: Applicant needs to prepare all required document with EPR Plan for EPR authorization before submission of the application.
Filling Application in prescribed format: Applicant needs to fill detailed information in prescribed application form with EPR plan.
Offline submission of application: Applicant need to submit offline application with detailed information of producer and EPR plan to concerned department.
Scrutiny of application: CPCB official will scrutinize the application and EPR plan is evaluated by CPCB for approval. If the documents presented are incomplete then CPCB official may respond with checklist within 25 days for clarification purpose.
Grant of EPR approval: Chairman of CPCB shall approve the EPR plan as scrutinized by concerned officials. After approval of EPR plan, the divisional head issues the EPR authorization.
Sample of a Grant Certificate for EPR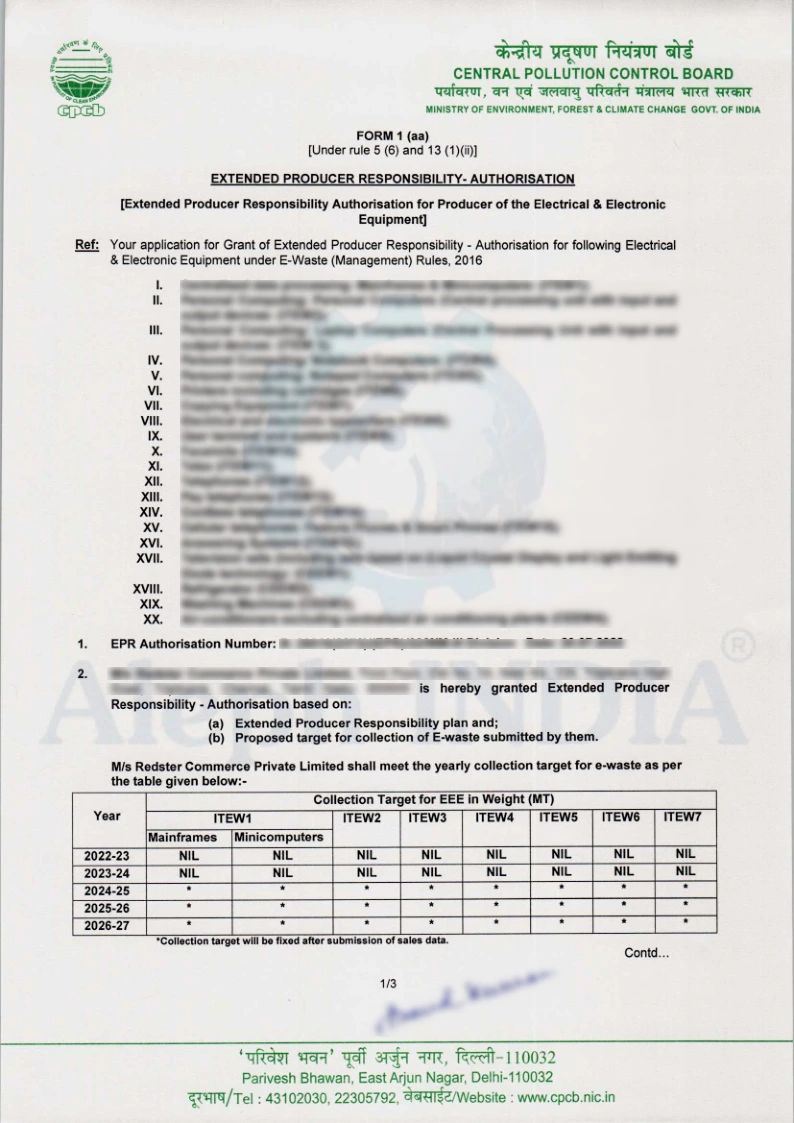 Documents Required for EPR Registration
The following documents are required to be submitted along with Form-1:
Address proof documents of the Manufacturer/Importer.
GST Certificate with address of Manufacturing Unit.
Copy of documents/certificate of Company Registrar or Directorate of Company, or Import Export code letter.
Copies of agreement document with dealers, collection centers, dismantlers, recyclers, treatment, storage and disposal facilities (TSDFs) etc.
Self-declaration for compliance of RoHS in prescribed format.
The technical documents (supplier declaration- description of product, document for materials, parts, and/or sub-assemblies and analytical test result)
Copy of the permissions/licenses from the relevant ministry/department for marketing various products or for doing the business as given below:
TIN details
PAN details
Incorporation certificate
Copy IEC in case of importers
Copy of authorization issued by the SPCBs/PCCs
Documents related to EPR plan.
Details of proposed awareness programmes and allied initiatives.
Estimated budget earmarked for Extended Producer Responsibility (EPR)
TIMELINE
CPCB shall provide EPR authorization within 120 days of receiving a complete application, as per E-Waste regulations. In case of incomplete application, the CPCB may verify the application and respond with a check list within 25 days.
Note: Agreement will be signed for 1 year, and the Certificate granted will be valid for 5 years.
EPR Registration Fees
Know the complete details about the EPR Registration Fees by contacting our EPR Registration expert team. Get the best quotation, fill out the above form.
How can Aleph INDIA help in obtaining the EPR Registration Certificate?
Aleph INDIA has a team of experts that can help you to obtain your EPR Authorization/EPR Certificate. We are the leading EPR Registration consultant in Delhi helping our clients to get EPR Registration in any part of India.
Our EPR consultant team helps the EPR Authorization applicants during every steps of the registration process, from documents preparation to grant of license. We directly coordinate with the CPCB officials for proper documentation and information flow during the whole certification process with proper follow-ups. For more information, connect with our experts team.
frequently asked questions (FAQ)
E-waste refers to electronic products nearing the end of their "useful life", for example, computers, televisions, VCRs, stereos, copiers, and fax machines. Many of these products can be reused, refurbished, or recycled.

Reduce, reuse, and recycle. Reduce your generation of e-waste through smart procurement and good maintenance. Reuse still functioning electronic equipment by donating or selling it to someone. Recycle those components that cannot be repaired. Most electronic devices contain a variety of materials, including metals that can be recycled.

Extended Producer Responsibility (EPR) is a policy approach in which a producer's physical and /or financial responsibility for a product extended to the post-consumer stage of a product's life cycle. It is important because it motivates the producers to manufacture environmentally friendly products and reduce pollution.

Yes, EPR is mandatory for some products in India. For more details, you can contact us.

The present policy ensures that every electrical and electronic equipment producer and their spare parts do not contain pollutants such as lead, mercury, cadmium, hexavalent chromium, polybrominated biphenyls, and polybrominated diphenyl ethers beyond a maximum concentration value. Every producer shall provide detailed information on the constituents of the equipment and their components or consumables or parts or spares, along with a declaration of conformance to the RoHS (Restriction of Hazardous Substances) provisions in the product user documentation.

EPR policies helped a lot in increasing the recycling activities and shown a positive effect on decreasing pollution. It has started showing positive effects throughout the country.

If you want EPR License urgently, gets in touch with our EPR Experts now.

Repair - Replace your throwaway habits with repairing ones and the safest way to go about them. Reuse - If your items are old but in good condition, you can turn them into money or donate them to someone who needs that product. Recycle - Plenty of non - profit organizations, local communities, and official organizations offer services to help you recycle old electronics.
Request a call back.
Would you like to speak to one of our Senior Technical advisers over the phone? Just submit your details and we'll be in touch shortly. You can also email us if you would prefer.
Request a call back.
Would you like to speak to one of our Senior Technical advisers over the phone? Just submit your details and we'll be in touch shortly. You can also email us if you would prefer.