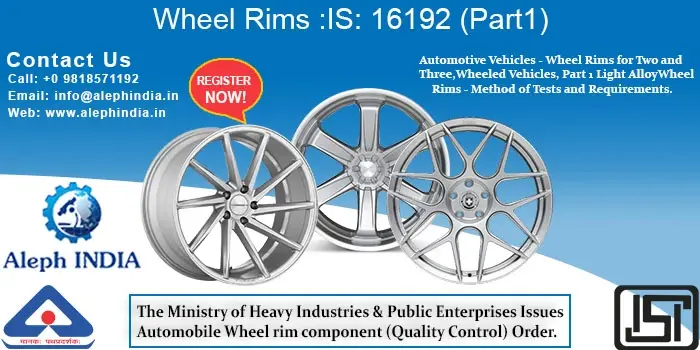 BIS CERTIFICATION: UNDERSTANDING AUTOMOBILE WHEEL RIM COMPONENT (QUALITY CONTROL) ORDER, 2020
"High quality" and "top quality" are some of the terminologies used so often by manufacturers to represent their products that they've all but most of the time lost their impact on skeptical sales.
Certification, on the other hand, is another matter-particularly certification that is recognized and respected all over India. These certifications provide third-party validation of quality using the most stringent standards and continual reevaluation.
Bureau of Indian Standard BIS Certification is India's most respected manufacturing certification authority and now the regulatory, enforcing and certifying authority for Automobile Wheel Rim Component (Quality Control) Order, 2020.
The entitled order "Automobile Wheel Rim Component (Quality Control)" was presented by The Ministry of Heavy Industries & Public Enterprises on 21 September 2020, where the department has drawn up appropriate quality standards for importers as well as the local industry.
This is to be notified that all-wheel rims, either domestic or any imports in India, must be certified under BIS Certification for Wheel Rim standards. And it has been clearly mentioned in the notice that any manufacturer that contravenes the provision of this order will be liable to punishment under the provision of the Bureau of Indian Standards Act, 2016.
While it is provided that nothing in this order is going to be applied on the automobile wheel rims meant for export.
The new proposed regulation is to ensure greater road safety. In line with this, the government is in the process of revising the technical specifications of another 350 products to increase safety and quality, imposing higher standards on imports, and promote local wheel rim manufacturers. The draft for quality control of rims includes products for two-wheelers, three-wheelers, electrically powered vehicles, passenger cars, and commercial vehicles. The Bureau of Indian Standards (BIS) is responsible for the certification and implementation of the new quality standards.
BELOW ARE THE TABLE SHOWING THE AUTOMOBILE WHEEL RIM CATEGORIES ON WHICH THE ISSUED ORDER IS GOING TO BE APPLIED
Automobile wheel rim Categories
Indian Standard no.
Proposed
Products
Wheel Rim- Category 2W, 3W,e- rickshaw and e-cart
IS: 16192 (Part 1)
Automotive Vehicles – Wheel Rims for Two and Three Wheeled Vehicles Part 1 Light Alloy Wheel Rims Method of Tests and Requirements
Wheel Rim- Category 2W, 3W,e- rickshaw and e-cart
IS: 16192 (Part 2)
Automotive Vehicles – Wheel Rims for Two and Three Wheeled Vehicles Part 2 Sheet Metal Wheel Rims Method of Tests and& Requirements
Wheel Rim- Category 2W, 3W,e- rickshaw and e-cart
IS: 16192 (Part 3)
Automotive Vehicles Rims for Two and Three Wheeled Vehicles Part 3 spoke Wheel Rims – Method of Test and Requirements
The mandatory BIS Certification for Wheel Rims comes under the category of ISI Certification. This certification is a mandatory type-5 certification and requires factory audit and sampling testing. Mainly for industrial and consumer goods, such as household appliances, steel material, car tires and rims, etc.
The Benefits of the Scheme for the Importers and Domestic Manufactures: BIS Certification of Wheel Rim
This certification will meet national, regional, or industry compliance requirements depending on the scheme
Demonstrates your products comply with product Standards
Demonstrates you have a recognized quality management system governing your processes
Demonstrates your commitment to 3rd party review of your products
Ongoing surveillance of products helps you spot unauthorized component swaps from suppliers
Consumers, end-users, retailers, importers, and distributors recognize the value of third party certification and this provides them with product confidence.
As the assessment process is robust certification can be used as evidence of meeting your duty of care to supply safe goods if you are challenged with product liability accusations.
Proposed Guidelines of Inspection and Testing
LABORATORY
A laboratory shall be maintained which shall be suitably equipped (as per the requirement given by the authority and staffed, where different tests given in the specification shall be carried out in accordance with the methods given in the specification.
The manufacturer shall prepare a calibration plan for the test equipment.
TEST RECORDS
The manufacturer shall maintain test records for the tests carried out to establish conformity.
LEVELS OF CONTROL
The tests like Rotational Bending Fatigue Test, Radical Load Durability Test, Radical Impact Resistance Test, Torsion Moment Test, and Air Leak Test shall be carried out on the whole production of the factory which is covered by this plan and appropriate records should be maintained.
All the production which conforms to the Indian Standards and is covered by the license should be marked with Standard Mark.
REJECTIONS
Disposal of the non-conforming product shall be done in such a way so as to ensure that there is no violation of provisions of BIS Act, 2016. Below is the Table showing the goods and articles on which the drafted order is going to be applied.
Request a call back.
Would you like to speak to one of our Senior Technical advisers over the phone? Just submit your details and we'll be in touch shortly. You can also email us if you would prefer.