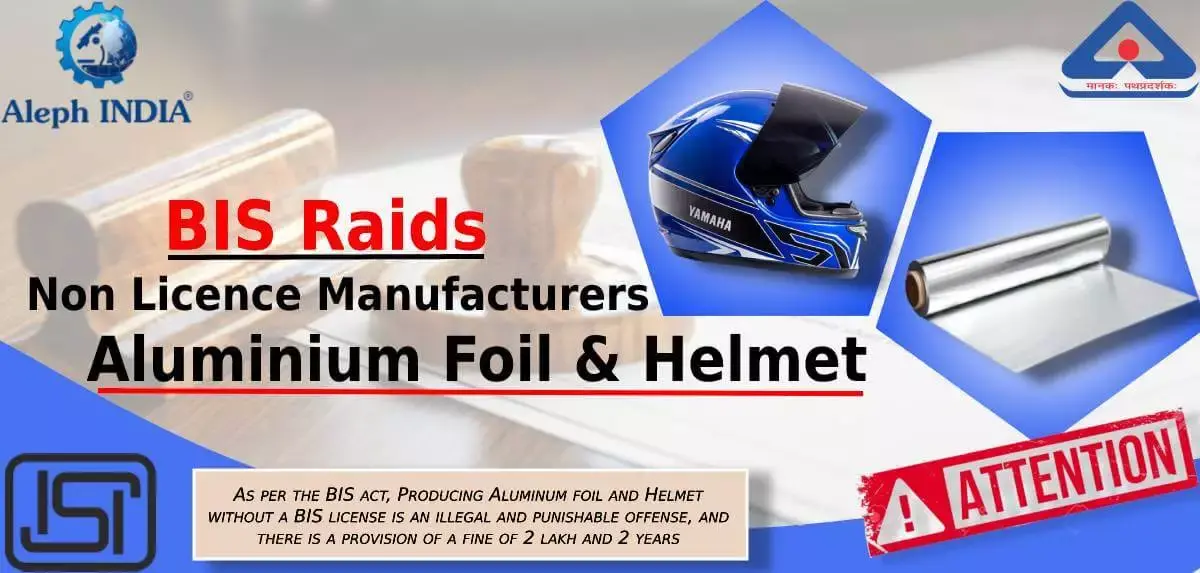 BIS RAID ON NON-LICENSE HOLDER OF ALUMINIUM FOIL AND HELMET MANUFACTURER
ATTENTION PLEASE
ALL ALUMINIUM FOIL AND HELMET MANUFACTURERS
BIS Caught Non-License Holders Of Aluminum Foil And Helmet Manufacturers In Delhi. BIS Raided Paharganj, Shalimar Village, And Subashnagar Factories, And They Found That Manufactures Are Producing Illegally Aluminium Foil And Helmet Without License. As Per The BIS Act, Producing Aluminum Foil And Helmet Without A BIS License Is An Illegal And Punishable Offense, And There Is A Provision Of A Fine Of 2 Lakh And 2 Years Imprisonment.
Aluminum Foil Is Used To Wrap The Food And Protect The Delicate Food, Almost Used In Every Household Daily. With The Collaboration Of BIS, The Government Of India Has Covered Aluminium Foil IS 15392:2003 Under Mandatory BIS Certification And Must Bear The ISI Mark. Aluminum Foil Must Be Manufactured As Per The Specifications Mentioned In The Indian Standard IS 15392:2003; Otherwise, It Can Become Toxic Aluminium.
To protect public health, no manufacture is allowed to produce Aluminium Foil without the BIS Licence and ISI Mark. As per the Aluminum Foil (QC) 2020 Order, manufacturers and splitters must guarantee that their Aluminum Foils must comply with Indian Standard IS 15392 and the Standard Mark (ISI Mark) applied on them under the supervision of the Bureau of Indian Standards.
Registration under the BIS scheme keeps your business running smoothly.
Get BIS certified if you're a maker of Aluminium foil & Helmet and want to operate your business smoothly in Indian Market. BIS has taken strict action against the Aluminium Foil and helmet manufacturers producing aluminum foil illegally; BIS has charged a fine of 2 lakh and 2 years imprisonment. BIS has also taken manufactured products under its custody; manufacturers can sell them after getting a license from BIS.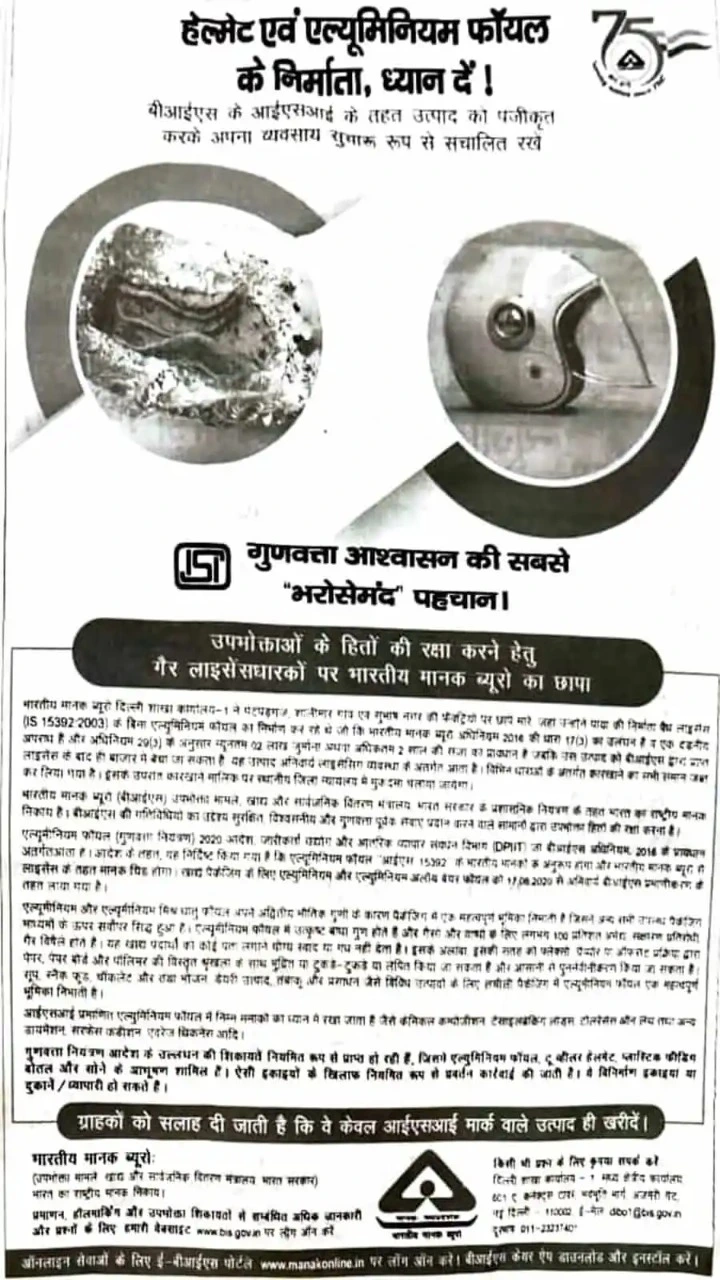 Some manufacturers are producing low-quality helmets, which are against the law and provide no protection to the rider due to which accident cases in India are increasing day by day. Keeping this in consideration, BIS has covered Helmet under Mandatory BIS Certification. Most of the low-quality helmets have a fake ISI mark and are composed of cheap plastic, fiber, and thermocol materials that cannot withstand the weight/pressure of a bike rider in the event of a fall, as required by law. A cheap quality helmet does not protect the bike riders during the accident.
ALEPH INDIA Requests Every TWO WHEELER Rider To Wear A Good Quality ISI Marked Helmet And Save Their Life.
ISI Mark product not only saves thousands of lives but also aids with the expansion of your business. BIS Certification and ISI Mark are not only mandatory to Indian manufacturers, but it is also compulsory for the foreign manufacturers to get certified from BIS to sell their products in the Indian Market. Only that Aluminium Foil and Helmet are allowed to sell in Indian Market, which complies with Indian standards and BIS Certification criteria.
For any query regarding BIS Certification, Product testing, Compliance, Auditing, etc. get in touch with us at +91 9990136656
Read all the Latest News and Updates By BIS Here