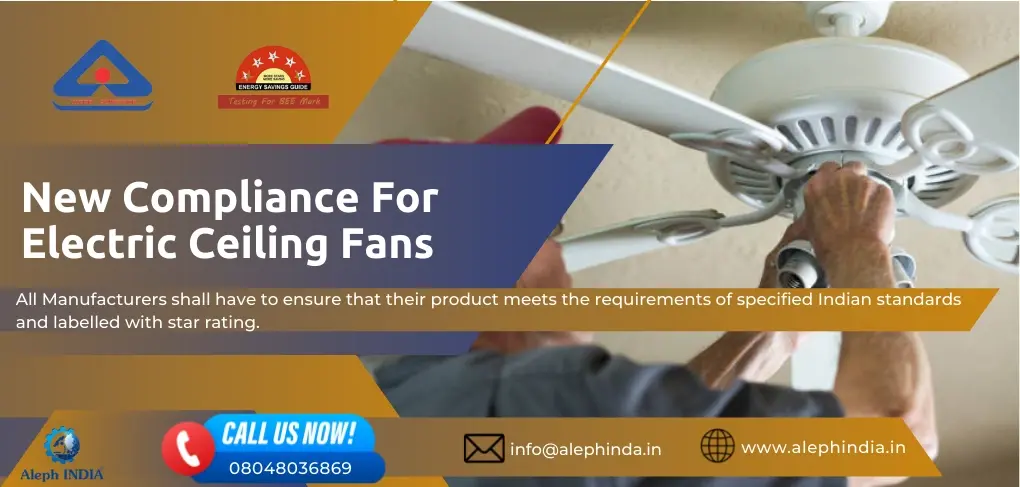 BEE Star Ratings for Electric Ceiling Fans IS 374
The Ministry of Power has issued a notification specifying the compliance of electric ceiling fans. All Manufacturers shall have to ensure that their product meets the requirements of specified Indian standards and labelled with star rating.
This notification specifies energy consumption standards for electric ceiling fans, namely:
All-electric ceiling type fans operated by induction motors and Brushless Electric Motors of all standard sweep sizes covered by IS 374 that operate on single-phase alternating current supplies up to and including 250V, 50Hz, manufactured, commercially purchased, imported, or sold in India shall:

meet the safety requirements specified in clause 9 of Indian Standard 374 and amendments referring to clauses 8 to 32 of the India Standard 302 (Part 2/Sec 80),
meet all of the performance requirements outlined in the Indian Standard 374,
Either bear the Bureau of India Standards certification mark (ISI Mark) or the manufacturer is certified as per IS/ISO 9000 or above.

Star rating or star level plan:

Each electric ceiling type fan must have a label with a maximum of five stars with a one-star interval, and the fan must be rated for performance from one to five stars based on its service value.
Every electric ceiling type fanrefers to energy consumption standards which meet the performance requirements as specified in this notification.
Aleph INDIA serves the industry as a one-stop shop for all product regulatory compliance services. Aleph India assists manufacturers and importers in obtaining certification and licenses under the various schemes of the government of India. Our conformity assessment vertical will meet your certification requirements while ensuring a smooth certification process.
For any query regarding BIS Certification, BEE star ratings for electric ceiling fans, Product testing, Compliance, Auditing, etc., get in touch with us at +91 9990136656.