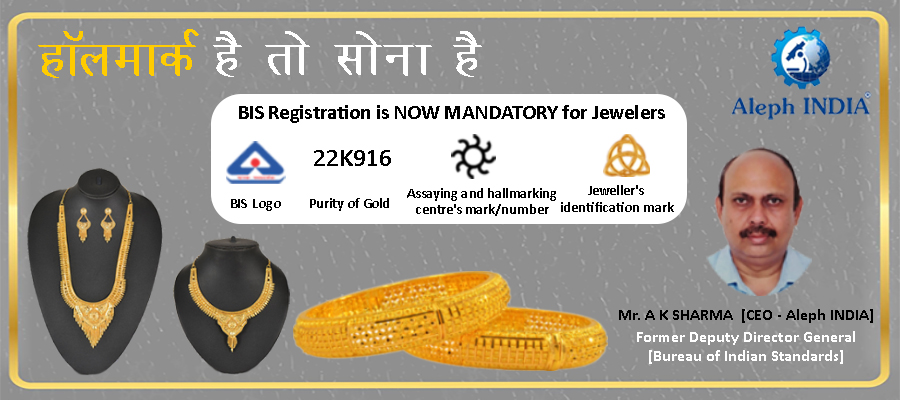 Hallmarking is the accurate determination and official recording of the proportionate content of precious metal in precious metal articles. Hallmark is the official mark used as a guarantee of purity or fineness of precious metal articles. The principle objectives of the Hallmarking Scheme are to protect the public against adulteration and to obligate manufacturers to maintain legal standards of fineness. In India, at present two precious metals namely gold and silver have been brought under the purview of Hallmarking.
As per the Hallmarking Scheme, licence is granted to the jewellers by Bureau of Indian Standards (Govt. of India). The BIS certified jewellers can get their jewellery hallmarked from any of the BIS recognized Assaying and Hallmarking Centres. The recognition of an Assaying and Hallmarking Centre is done with Indian Standard IS 15820:2009.
MARKING SHALL BE GIVEN BE :
PROCEDURE FOR ASSAYING AND HALLMARKING CENTRE
Here is the detailed description for set up Assaying and Hallmarking Centre, The basic requirements for Hallmarking Centre are as follows:-
Infrastructure: To set up assaying and hallmarking centre following infrastructure required :
Premises : shall be 550 Sq Ft to 650 Sq Ft , assaying lab shall be preferably 150 sq ft.
Electricity: shall have ample power supply for uninterrupted operation of Centre, moreover has to install generator of 15KVA power backup.
Centre shall be equipped with AC, safety requirement like CCTV and safe locker.
Centre shall have separate section for each operations like Reception, Quality Manager Office, XRF section, Laser Section, Sampling Section, Micro-balance and Assaying Lab.
Make vibration proof platform for Micro Balance.
Request a call back.
Would you like to speak to one of our financial advisers over the phone? Just submit your details and we'll be in touch shortly. You can also email us if you would prefer.