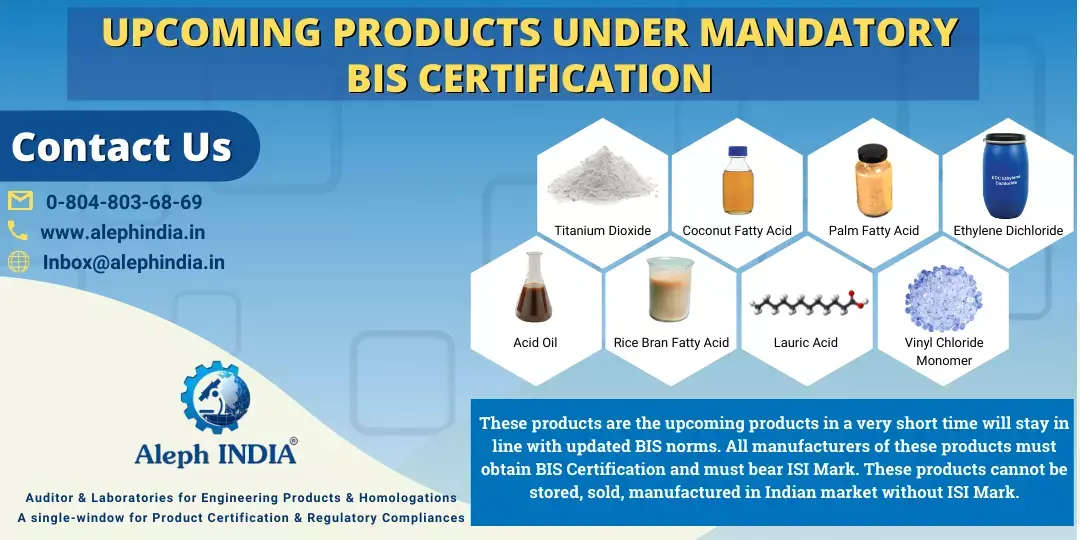 LATEST NEWS FOR UPCOMING PRODUCTS UNDER MANDATORY BIS CERTIFICATION
Bureau of Indian Standard (BIS) has covered more than 1000 products from different sectors under mandatory BIS Certification, and most of the products are very dangerous to human health as well as for the environment. Being a national standard body, its major function is to set the standards for the products keeping the safety of living things and nature in priority. Bureau of Indian Standards (BIS) ensures the product is safe to use, environment friendly and also helps the country economy to grow more as it boosts international trade.
Read More: List of All Products Under BIS Registration
Since the Indian market lacks extensive fencing, manufacturers continue to emphasize profits over public health in order to make low-cost, high-quality goods. As we all know, every end-user in the world prioritizes product quality as they are spending a considerable amount of money to purchase that good. Due to this, BIS has developed over more than 19000 standards in a variety of technical fields, assisting the industry in improving the quality of its goods and services. The evolving globalised landscape has prompted the development and implementation of new standards, as well as cooperation with industrial companies and service providers and consumer education.
Very soon the Government of India and BIS will be going to tighten the quality control for products mentioned in the below table to curb the rising production of cheap quality products.
| INDIAN STANDARD | SPEC. NAME |
| --- | --- |
| IS 411:2020 | Titanium Dioxide, Anatase, for Paints |
| IS 17450-2020 | 1,3 Phenylenediamine |
| IS 10931:1948 | Lauric Acid |
| IS 12029:1986 | Acid Oil |
| IS 12067:1987 | Palm Fatty Acid |
| IS 12068:1987 | Rice Bran Fatty Acid |
| IS 12069:1987 | Coconut Fatty Acid |
| IS 12124:1987 | Rubberseed Fatty Acid |
| IS 12361:1988 | Partially Hydrogenated Rice Bran Fatty Acids |
| IS 17077: 2019 | Plastics - Acrylonitrile-Butadienestyrene (ABS) Moudling and Extrusion Materials Part 1 Designation System and Basis for Specifications |
| IS 17077:2020 | Plastics - Acrylonitrile Butadiene-Styrene (ABS) Moudling and Extrusion Materials Part 2 Preparation of Test Specimens and Determination of Properties |
| IS 17370:2020 | Para-Xylene |
| IS 17442:2020 | Vinyl Chloride Monomer |
| IS 17397:2020 | Plastic-Thermoplastic Polyurethanes for Moulding and Extrusion Part 1 Designation system and Basis for specifications |
| IS 14434:1998 | Polycarbonate Moulding and Extrusion Materials |
| IS 869:2020 | Ethylene Dichloride |
All the aforementioned products are the upcoming products in a very short time will stay in line with updated BIS norms. All manufacturers of these products must obtain BIS Certification and must bear ISI Mark. These products cannot be stored, sold, manufactured in Indian market without ISI Mark.
For this, you have to adopt certain procedures for quality control which is a little difficult and time-consuming.
For more assistance, get in touch with Aleph India!
Visit Aleph India to know more about all types of certification. You may also reach Aleph INDIA toll-free helpline at 08048036869/+919990136656 for a quick response.