BIS HAS ACCEPTED Aleph INDIA's PROPOSAL FOR NEW INDIAN STANDARD OF RE-DISPERSIBLE POLYMER POWDER
BIS is a National Standard Body of India, formulate Indian Standards of products, services, test methods, guidelines for products and services etc.
We at ALEPH INDIA have started assisting the Industry in providing technical input to Indian Standards according to their needs and requirements. Technical input includes inclusion of new sizes and varieties, proposal on new subjects for the formulation of Indian Standards, modification of new proposal for test methods etc
ALEPH INDIA on behalf of Industry has submitted a proposal for the Formulation of new Indian Standard on "Re-Dispersible Polymer Powder" which has been accepted by BIS. This proposal has been sent by BIS to industries, government departments, consumers and stakeholders for comments.
This Standard prescribes the requirement, methods of sampling and testing for Polymer additives for making putty for use in internal and external surfaces.
RE-DISPERSIBLE POLYMER POWDER
Re- Dispersible Polymer Powder is a white powder, which is obtained by the spray drying of aqueous vinyl acetate-ethylene copolymer dispersion, or we can say it is the copolymer of vinyl acetate-ethylene. Re-Dispersible polymer powder is the polymer mixture that is converted into powder form by series of processes such as high pressure and temperature, spray drying and surface treatment to powdered thermoplastic resin material. When mixed with water, this powder converts back into the liquid mixture, which has the same properties as the original emulsion. It is also present in the mortar, which increases the cohesion, cohesiveness and flexibility of the mortar (material used to fill the gap between the bricks and blocks).
Re-Dispersible Polymer Powder is almost applied to walls of every house or building very common name everyone have heard of "Wall putty". This powder is used as cement-based wall putty & tile adhesives, wallpaper adhesives, fill cracks, cement renders etc. It helps to reduce the formation of cracks caused by shrinkage. Requirements
According to this Standard, Putty must meet the following requirements
Material shall be in powder form, free from grits.
The essential ingredient in composition should be spray dried water-dispersible polymer.
After careful handwork, the substance should have excellent homogenous quality with no sliminess or stickiness.
Material shall not contain lead or compounds of leads more than 90ppm.
Material shall not contain heavy metals like cadmium, chromium VI, arsenic, antimony and other oxides more than 0.1%.
Testing Methods
Re-Dispersible Polymer Powder has to go through following testing methods to check whether it is consumer friendly or not.
Bulk Density (kg/m3)
Particle Size, (Dry sieve test), percent detention on 200 mesh (75μm), Max
Moisture Content, percent by mass, Max
Ash Content @ 900°C for 4 hours, percent by mass, Max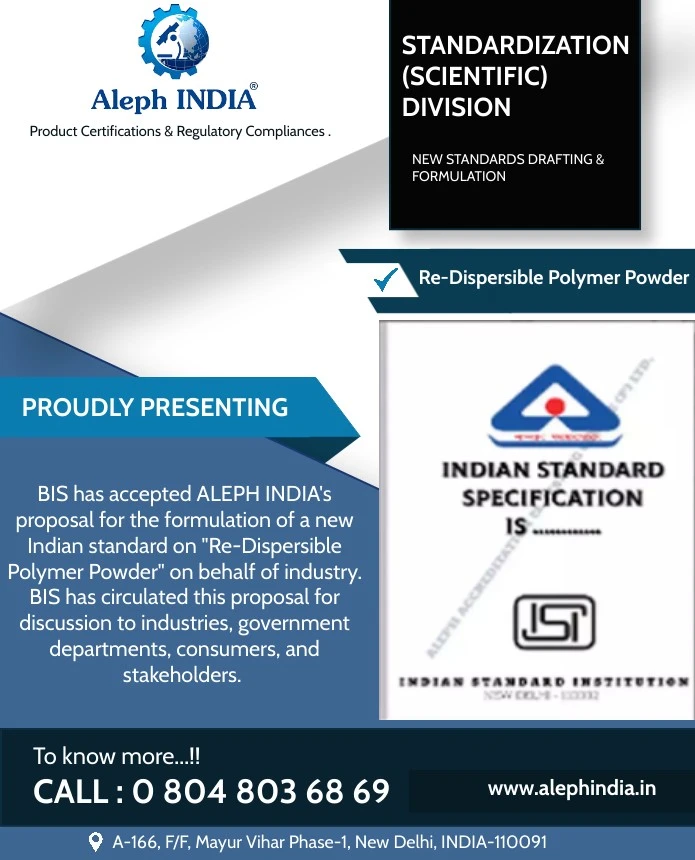 One of ALEPH INDIA's greatest achievements is standard formulation. Our professional experts are always available to help you not just with BIS Certification, BIS registration, testing, and other BIS-related challenges, but also with the formulation of new standards.
For more information feel free to contact us at (+91) 9990136656 / 08048036869
Click here to know more about standardization and Standard formulations for new products.
Visit our official website www.alephindia.in to hear more news from compliance world.