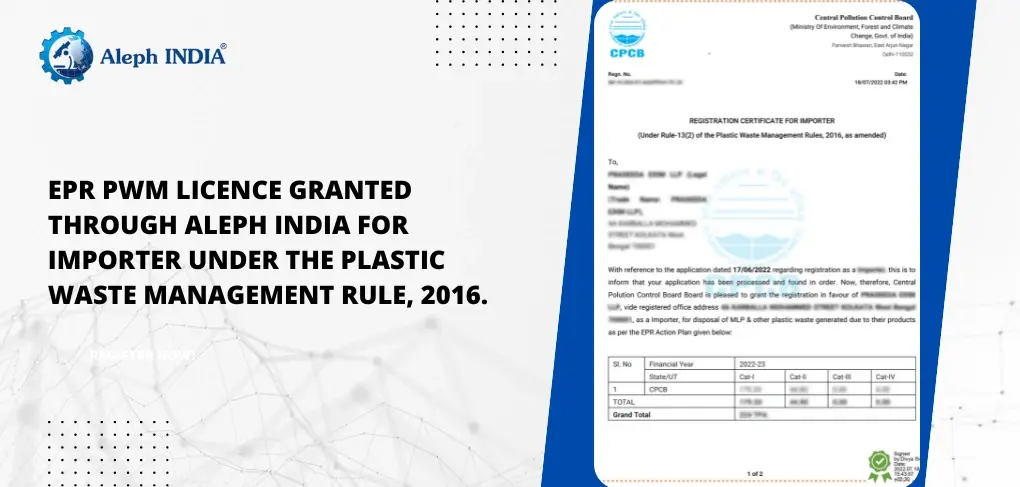 EPR PWM REGISTRATION CERTIFICATE GRANTED THROUGH ALEPH INDIA
We are pleased to share with you that our client, PRASEEDA EXIM LLP, West Bengal, has been granted an EPR Registration Certificate for Importer under the Plastic Waste Management Rule, 2016. Aleph India EPR compliance experts assisted PRASEEDA EXIM LLP, West Bengal in obtaining an EPR Registration certificate for Import from CPCB on time by guiding them through each step of the process.
CPCB has issued an EPR registration certificate for Import to our client as per Plastic waste management Rule, 2016. The registration certificate is granted subject to the following conditions:
The Importer shall meet the EPR target for the specific year, and the PIBO shall have to provide certificates only from registered plastic waste processors as proof of meeting their EPR obligation.
An Importer can meet its EPR obligation under a category by submitting an EPR certificate from another PIBO in the same category.
EPR credit will be exchanged between PIBOs and Plastic Waste Processors (PWP) as per the mechanism provided by CPCB.
The Importer shall not conduct business with any entity that has not been registered through the CPCB's centralized portal.
The importer shall not manufacture, stock, distribute, or sell any of the prohibited SUP items listed in the PWM rule.
The importer must ensure that the provisions of the PWM rules, 2016, as amended, are followed. Action shall be taken against violators of PWM rules.
According to EPR guidelines for plastic packaging, Producers, Importers, Brand-Owners, and Plastic Waste processors shall have to register through the centralized online EPR portal and obtain EPR Registration Certificate from CPCB.
To obtain a plastic waste management registration certificate, you must apply through the centralized EPR portal of CPCB. PIBOs and PWPs are not permitted to conduct business unless they obtain CPCB EPR registration for plastic waste management.
Aleph India is a leading EPR Registration consultant who assists manufacturers, producers, importers, and brand owners in obtaining Plastic Waste Management registration certification in accordance with the Plastic Waste Management Rule. Aleph India experts will assist PIBO in obtaining the PWM certificate, providing valuable insight and advice at each stage.
Aleph India is the first choice for manufacturers, importers, and brand owners because we provide the best regulatory compliance services. Our conformity assessment vertical will meet your certification needs while ensuring a smooth certification process.
If you have any questions about EPR registration Certificate, Contact us at +91 9990136656.