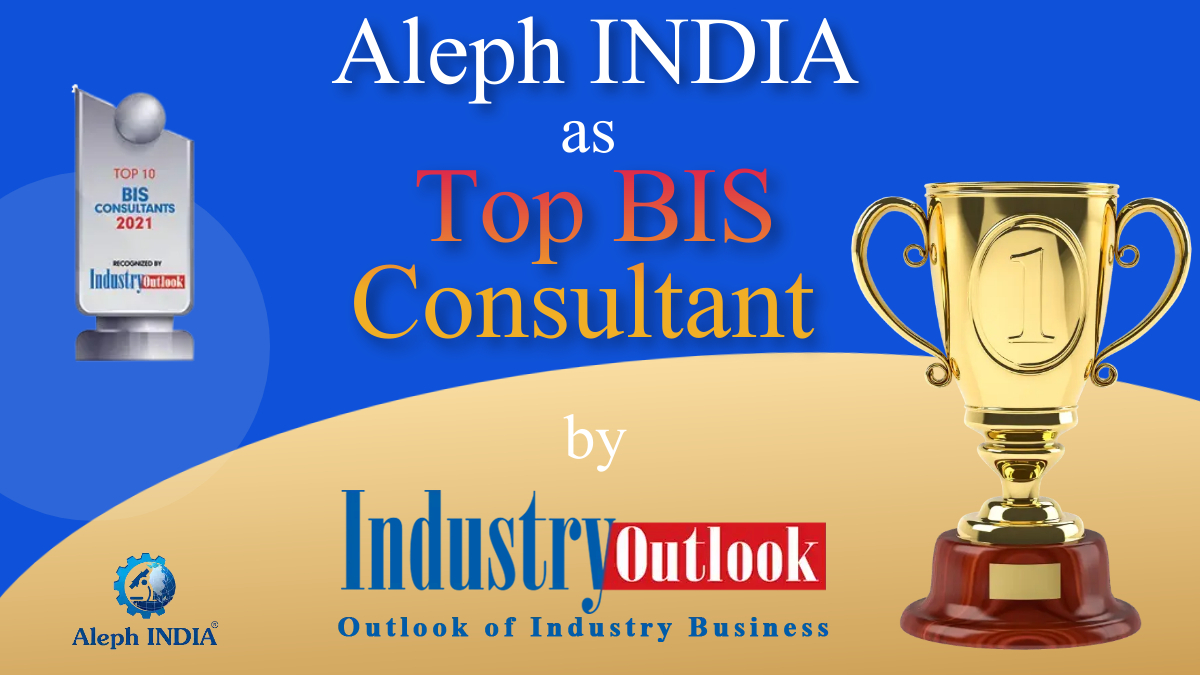 Aleph India as Top BIS Consultant by Industry Outlook
Top BIS Consultant: As per Industry Outlook a business magazine, Aleph India has got the first rank in the top 10 BIS consultants 2021. Aleph India is the top consultant in all types of technical/BIS certifications. Aleph India offered Consulting services in all types of certification like BIS Certification, FMCS certification, BIS registration for electronic and IT products, BEE certification, Hallmarking, e-waste management, FSSAI certification, and more.
Article:
Top 10 BIS Consultants - 2021 | Industry Outlook
Industry outlook is a business magazine focusing on the primary and secondary sectors. It covers all types of services and manufacturing sectors. This all-encompassing publication was created by industry outlook to provide you with vital insights from leaders in different areas. Industry outlook has to keep Aleph India on number 1 position in top 10 BIS consultant in their magazine.
After establishing a new model of economic reforms known as the LPG or Liberalization, Privatization, and Globalization model, India's economy is now the world's fastest-growing economy. Globalization has enhanced trade freedom like manufacturing, services, selling products, import-export, etc around the world. India has emerged as the most appealing destination for manufacturing, imports and investment. When it comes to imports, India is one of the most important centers for worldwide manufacturers who want to export their goods to the country.
Many manufacturers, importers, service provider operate their business in India, but each country has its own set of industrial rules and standards. Without product conformance compliances, testing, and marking, you won't be able to put your product on the market. You must follow certain protocols to do so. Bureau of Indian Standards comes into play to develop Indian standards and provide certification to the manufacturer, importer.
The Bureau of Indian Standards (BIS) is India's National Standard Body for the development of standardization, marking, and quality certification of items in a harmonious manner. The BIS Act 2016 established it to manage, grade, and standardize the quality standard of commodities. The purpose of BIS is to ensure that the general public receives high-quality, safe, dependable, and risk-free products.
In India, the BIS ISI mark is regarded as a symbol of customer trust. The manufacturer must have an ISI mark on their goods to ensure the product's quality. Manufacturers or importers must get BIS ISI certification to ensure the quality of the product.
"ALEPH INDIA GROUP" is a prominent Consultant in product testing and technical compliances for Indian regulatory needs. We 'Aleph INDIA Group' provide a single window for all kinds of certifications and testing equipment, which helps you to improve your quality standards.
Aleph INDIA Group has established itself as one of the most reputable names in the industry, to assist Client in obtaining certification and licenses under the various schemes of government of India. ALEPH INDIA has only focused on customer satisfaction and how to deliver the best possible service to customers.
Visit Aleph India to know more about all types of certification. You may also reach Aleph INDIA toll-free helpline at 08048036869/+919990136656 for a quick response.