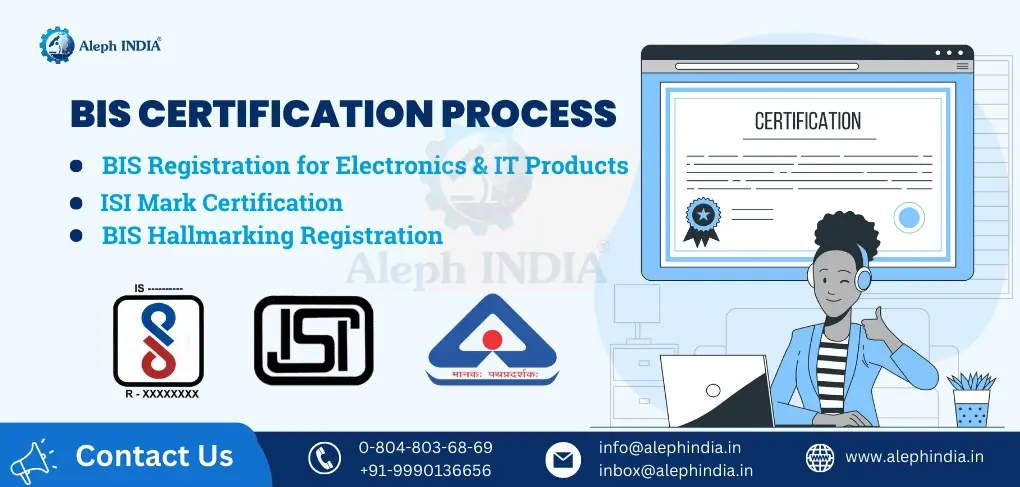 BIS Registration Process in india
The Bureau of Indian Standards was established in India under the BIS Act, 1986 and is responsible for setting quality standards and regulations to protect public health and safety. Standard formulation, product registration, hallmarking, monitoring and calibration schemes, and other practices are part of BIS. A product that has been certified by the Bureau of Indian Standards is one that meets the safety requirements set by the organization.
In order to manufacture, import, or sell products that have been notified in the BIS voluntary or mandatory certification scheme, it is necessary to acquire a BIS Certification. BIS Certification is also beneficial in terms of ease of doing business and taxation benefits. In this article we will discuss the procedure to obtain BIS Registration certification for your product.
What is the aim of obtaining a BIS registration, and why is it critical in India?
The World Trade Organization's goal is to make cross-border trade as easy as possible. However, technological trade barriers can make it difficult for manufacturers from other countries to sell their goods in India. Not to mention that the government is constantly introducing new items in different categories that require mandatory BIS registration. More items have been added to the list in the last two years than in the previous six to seven years. So for uninterrupted manufacturing and selling of products in the Indian market, the manufacturers must obtain a BIS certificate.
The steps to BIS certification
Indian Manufacturers can obtain their BIS certification under the Product Certification Scheme. At the same time, the manufacturers of Electronics and IT Products can obtain their BIS licenses under the Compulsory Registration Scheme (BIS CRS). Foreign manufacturers can obtain their BIS licenses by appointing an Authorized Indian Representative (AIR) who will be responsible for the documentation and whole certification procedure. In this article we will know about the BIS certification process for electronics & IT products, ISI Mark certification process, and BIS Hallmarking Registration for Showroom and Assaying and Hallmarking centre.
BIS Compulsory Registration Scheme
More than 30 years ago, the Bureau of Indian Standards developed the BIS certification process. However, before the Compulsory Registration Scheme (CRS Scheme) in 2013, spearheaded by the Ministry of Electronics and Information Technology (MeitY), the procedure needed to be properly standardized. The Compulsory Registration Scheme is developed for Electronics and IT Products manufacturers. As per this scheme the manufacturers of electronics & IT products must obtain a BIS Registration license from the Bureau of Indian Standards. BIS has supervised certification processes and issued nearly all standards. Although standardization is still ongoing and far from complete, it has remained relatively stable since 2013.
BIS Registration Process under Compulsory Registration Scheme (CRS Scheme)
The process of BIS Registration under Compulsory Registration Scheme involves the following steps mentioned below:
Step 1: You need to submit a sample of the product to BIS recognized testing lab to get the product tested along with the required laboratory fees. Fees can vary according to the product under consideration.
Step 2: The testing process typically takes 10-15 days to get completed. After a thorough examination of the product, the laboratory issues the Test Report.
Step 3: The test report along with the application application & documents need to be submitted to the BIS portal. you will be contacted by a member of staff of BIS via email if there are any queries.
Step 4: After scrutiny of the application form, documents and test report, BIS grants the license.

List of Products Under Compulsory Registration Scheme: BIS Registration
Product Certification Scheme (ISI Mark Certification)
With over 26500 licensees covering over 900 products, the BIS Product Certification Scheme is one of the largest in the world. Under the Product Certification Scheme, the Bureau of Indian Standards provides BIS Certification (ISI Mark) to Indian manufacturers to use the Standard Mark on their product that complies with the required Indian quality standards. According to a government announcement, BIS certification is required for 90 items. The BIS also runs a Foreign Manufacturers Certification Scheme, allowing foreign manufacturers to obtain licenses to use the BIS Standard Mark. Over 350 licenses for over 50 Indian Standards have been issued in 40 countries. BIS Certification for foreign manufacturers can be obtained by appointing an Authorized Indian Standards (AIR).
ISI Mark Certification Process:
Step 1. Application form filling and documentation on BIS portal.
Step 2. Scrutiny of application and documents by BIS officials.
Step 3. Factory audit by a BIS appointed auditor.
Step 4. Product sample drawn for testing from a BIS recognized laboratory.
Step 5. If the product sample test report complies the required Indian standards, BIS initiates the license granting process.

List of Products that require mandatory ISI Mark Certification: ISI Mark Certification
BIS Hallmarking Registration Scheme
The Bureau of Indian Standards is also responsible for setting and promoting standards including gold and other precious metals. If you are a manufacturer or seller of gold or other precious metal products in India, you may be required to have your products registered with BIS. This process involves obtaining a hallmarking license from BIS and complying with the relevant Indian standards for the product in question. To register your products with BIS, you will need to submit an application along with the necessary documents and fees.
BIS Hallmarking Registration Process
The process of Hallmark registration involves the following steps:
Step 1: Documentation before submission of application.
Step 2: Generation of online portal on BIS website.
Step 3: Submission of application, documents and fees through BIS Manak online portal.
Step 4: Scrutiny of application and documents by BIS officials.
Step 5: Grant of BIS hallmarking license.

Check the Complete details about BIS Hallmarking Registration: Hallmarking Registration
What is the timeline of the BIS Registration Process?
The entire BIS Registration procedure including testing, takes about thirty to forty days. The process timeline can be shortened when our team and the manufacturing unit work together. Clients should be treated with the utmost honesty, according to Aleph INDIA. If you've contacted us to know about the BIS Registration, it's our responsibility to ensure that your registration goes as smoothly as possible.
Surveillance Process:
Following the inspection process, the factory undergoes a full survey, referred to as the surveillance process. The measures involved in the surveillance process are as follows:
The factory will be visited by the inspecting authority, who will testify.
The samples were taken after the testing.
The samples will be sent to independent laboratories for analysis.
The test report will include an overview of the allegation or input on the investigation.
The performance evaluation report will be completed.
License is issued after the report has been checked.
BIS (Business Intelligence Service) Products that need registration
List of Products under BIS Certification Scheme:
Concrete and Cement
Engines that run on diesel
Electronics for the home
Items relating to food
The Pressure of Oil Cooking stoves
Automobile Components
Items made of steel
Products made of wood
Product made of leather
Regulators, cylinders, and valves
Medical Devices
Transformers for electricity
Instruments for testing
Rubber and plastic
Equipment and machinery
BIS Registration Validity, Renewal & Fees
A BIS license's validity is two years after that renewal is required. If the renewal application is submitted after the license's validity has expired, the applicant must pay a late fee of Rs. 5,000. For example, for IT/AV appliances, LEDs, microwave ovens, and other items under scheme 2 of self-declaration, the fees are 53,000+ taxes for the first-time registration and 30,000 for subsequent model additions. BIS Fees vary from case to case depending upon product and service
In India, how do you become BIS certified?
After satisfactory safety testing of the product by notified Indian Standards and the submission of documentation, the Bureau of Indian Standards (BIS) awards the certification. Aleph INDIA is a group of highly experienced professionals helping Indian and international manufacturers to obtain their BIS Registration license to sell their electronic products in India. We help manufacturers complete all of the qualification requirements for BIS Registration. Are you looking for a BIS Registration certificate to help validate your product? We are here to assist you, so please connect with Aleph INDIA.
Request a call back.
Would you like to speak to one of our Senior Technical advisers over the phone? Just submit your details and we'll be in touch shortly. You can also email us if you would prefer.
Request a call back.
Would you like to speak to one of our Senior Technical advisers over the phone? Just submit your details and we'll be in touch shortly. You can also email us if you would prefer.