BIS REGISTRATION FOR ORTHO-PHOSPHORIC ACID - IS 798: 2020
INTRODUCTION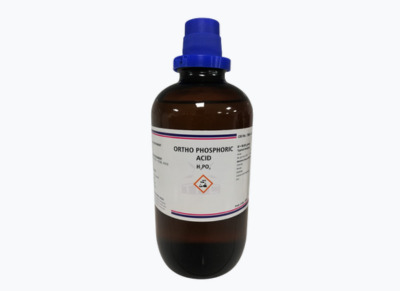 Ortho-phosphoric acid is most used colorless, syrupy, odorless, and non-volatile liquid acid, and in solid form, it looks a translucent crystalline solid. It is also known as phosphoric acid or mineral acid. The raw form of this acid is extracted from the phosphate rock, but its purest form is produced industrially from white phosphorous. Phosphate acid H3PO4 contains 1 atom of phosphorus, 4 atoms of oxygen, and 3 atoms of Hydrogen. Because it does not completely dissociate in water, it is a weak acid. Phosphoric Acid is found in our teeth and bones and it aids in the metabolic process. Ortho-phosphoric acid is the most used chemical in various industries, in agriculture as a fertilizer and we use it in our daily life like to remove the rust from iron/steel, used as a food additive, used in most of the personal care products like nail products, makeup, fragrance, teeth cleaner, etc.
BIS ORTHO-PHOSPHORIC ACID Product Description
Before any type of Ortho-phosphoric acid is introduced or brought into the Indian market for consumers, it's necessary for all versions and brands to receive BIS Registration. This registration is provided to the manufacturer and trader, whether they are in India or another country, and not to dealers or distributors. This rule applies to all the different types and brands listed under IS 798:2020. It's important to get BIS Registration before releasing or importing these products for Indian consumers, and this registration is specifically given to the manufacturer, regardless of whether they are based in India or abroad.
On 15th June 2021, the Bureau of Indian Standards has added Ortho-phosphoric acid under Compulsory Registration Scheme II of Schedule 2 of BIS Certification as per Indian Standard IS: 798:2020, which means BIS has made it compulsory to get Ortho-phosphoric register under this scheme and compulsory use of Standard Mark (Self-declaration Mark). This is the first time BIS has added a new category of chemicals in the field of the Compulsory Registration Scheme to make the registration process fast and effective.
Basic Requisite
Here's the 4 pillars on which BIS Licence depends, without these no applicant can apply for Indian BIS Certification. In order to get BIS Registration, applicant must fulfill following requirements:
Manufacturer – The first very important thing is that Indian BIS Licence is granted to the manufacturer only, not to importers or sellers. Importer may act as AIR of Foreign manufacturer and can submit the application to BIS. But final licence is only granted to the Manufacturer.


Manufacturing Address – Proper manufacturing address shall be mentioned in the documents. In case manufacturer have more than one factory location for one product, then separate BIS Licence is required for each location.


Product - Each product requires its own Licence. But if same product category covers multiple models, then one Licence/ registration no will cover all the models of same product category. Or we can say, one product with different models requires single BIS Licence.


Brand/ trademark - Each brand or trademark requires its own BIS licence.
BIS Registration Procedure
Considering the basic requirements of Indian BIS Certification, BIS Registration procedure for Ortho-phosphoric Acid (IS: 798) is also vary on the geographic location of manufacturing unit, BIS Registration process for domestic (Indian) is different from process for Foreign manufacturer
A) Process for Foreign Manufacturer
| | |
| --- | --- |
| STEP:1 | Nominate Indian Representative who can represent foreign manufacturer |
| STEP:2 | Submit online submission |
| STEP:3 | Get sample tested from BIS approved laboratory |
| STEP:4 | Submit online/offline hardcopy of application including Sample test report. |
| STEP:5 | BIS Officials verify the application |
| STEP:6 | Grant of Licence |
Guidelines for the nomination of Authorized Indian Representative (AIR)
It is mandatory for the foreign applicants to nominate Authorized Indian Representative (AIR) for its operations in India to get BIS Bureau of Indian Standards Certificate. In case they don't have branch office in India. AIR as a local representative is responsible to submit and manage the application for certification and is available to answer the questions. Following guidelines to be followed by Foreign Manufacturer to appoint the Authorized Indian Representative (AIR)
| | |
| --- | --- |
| Clause 1:- | If the foreign manufacturer has a liaison office or a branch office in India, they will be designated as AIR. |
| Clause 2:- | In case, foreign manufacturer does not have liaison office or a branch office in India, but the proprietor or registered user of the brand/trademark appearing on the article is located in India, the owner of the brand/trademark will become AIR. |
| Clause 3:- | If the manufacturer does not have a liaison office located in India and there is no proprietor /registered user of the brand/trademark appearing on the article, located in India then the other entity will become the AIR. |
B) process For Domestic Manufacturer
| | |
| --- | --- |
| STEP:1 | Submit online submission |
| STEP:2 | Sample testing from BIS approved laboratory |
| STEP:3 | Submit online/offline hardcopy of application including Sample test report. |
| STEP:4 | BIS Officials verify the application |
| STEP:5 | Grant of License |
HOW THE BUREAU WORK
DOCUMENTS REQUIRED FOR BIS REGISTRATION of Ortho-phosphoric Acid-IS: 798:2020
Completely filled CDF/CCL form
Duly filled BIS application form
Business License of manufacturing unit (English Translation + Local Language)
The scope of Business License (English Translation + Local Language)
ISO certificate of the manufacturer
Marking Label/ Details of Marking on the product
Authorization letter (If signatory person is other than the head of the manufacturing)
Trade Mark Certificate
Trademark Authorization Letter (If TM is owned by other than the manufacturer)
Authorized Indian Representative Company registration proof in INDIA (in case of foreign manufacturer)
Photo ID of Authorized Indian Representative/ Authorized Signatory
Technical Specification Sheet of Product/user manual
| Sl.No | POINTS NEEDS TO BE CONSIDERED TO GET BIS CERTIFICATE |
| --- | --- |
| 1 | Select BIS recognized testing organization and an experienced compliance partneruntil you have the expertise and/or office in India that can assist you. |
| 2 | Another important thing you must consider while choosing laboratory for testing of product is that the Licence of the lab should be valid and not suspended. And at that time laboratory shall not be in middle of or about to get audited. |
| 3 | Before shipment of samples, make sure complete arrangements have been made for the entire shipment from your location to the testing laboratories door. |
| 4 | All documents should be signed by manufacturer, brand owner and Indian Representative and in addition documents should be notarized and stamped by the brand owner and Indian representative. |
| 5 | In Construction Data form (CDF) product detail shall be filled accurately and in Critical component list (CCL) product components information should be filled in brief and accurate way. |
| 6 | Test report is valid for 3 months/90 days, before its expiry test report should be submitted to BIS. In case, if you are unable to submit the report to BIS Bureau of Indian Standards, then you have to submit the new sample again for testing. |
| 7 | All documents shall be ready before the testing of the sample. |
| 8 | After the submission of documents including the test report, Indian BIS normally takes about 15 days to approve the registration. In some cases, it may vary like it can take 30 to 60 days which is a more realistic timeline to expect. |
Render Support from Aleph INDIA
From Legal compliance to Product Testing, From Training to Research, From Development to complete conformity assessment, Aleph INDIA is a single window solution for all kind of product certification needs. We are one of the leading BIS Registration consultants in Delhi providing mandatory and voluntary certification consulting services to manufacturers and importers in India and all around the world.
Entire paperwork, testing and guidance related to BIS Registration


Development of samples as per standards for 100% conformity of sample in the testing laboratory.


Liaison with Bureau which includes detailed Application preparation, submission, replying to time to time queries providing clarifications.


Multiple visits to BIS office Agreement Documents signing, Affidavit and Time to time miscellaneous/incidental works throughout the BIS Certificate Online and Offline process.


Free Maintenance of licence for up to 2 years.
The Regulatory compliance vertical of Aleph INDIA Group also deals with following domains:
| Sl.No | DOMAIN |
| --- | --- |
| 1 | Complete In-house Infrastructure for various certifications at single click. |
| 2 | Products Evolution & Advisory on registration of products under BIS Registration (CRS) Scheme & BIS Certification. |
| 3 | Assistance in standard formulation & Scheme of testing methods |
| 4 | Analysis reports for any changes in standards and regulations for compliance by Company |
| 5 | Advisory on Representation to Ministries for NOC/ Exclusion of products. |
| 6 | Advisory on new products to be included in BIS Registration (CRS) & BIS Certification, BIS regulations, QCO and its interpretation based on draft Orders from respective ministries. |
| 7 | Portrayal to all government departments for any clarification/ query of company. |
| 8 | Representation on behalf of company to various government organizations as a legal compliance partner |
| 9 | Strategic Assistance to ensure business continuity and development |
| 10 | Drafting of mails to BIS department for obtaining clarity on BIS regulations/QCO |
| 11 | Arrange meeting with BIS Bureau of Indian Standards and ministries to get clarity on inclusion/ Exclusion of Product or any other clarifications. |
| 12 | Update on upcoming regulations and its compliances |
Request a call back.
Would you like to speak to one of our Senior Technical advisers over the phone? Just submit your details and we'll be in touch shortly. You can also email us if you would prefer.