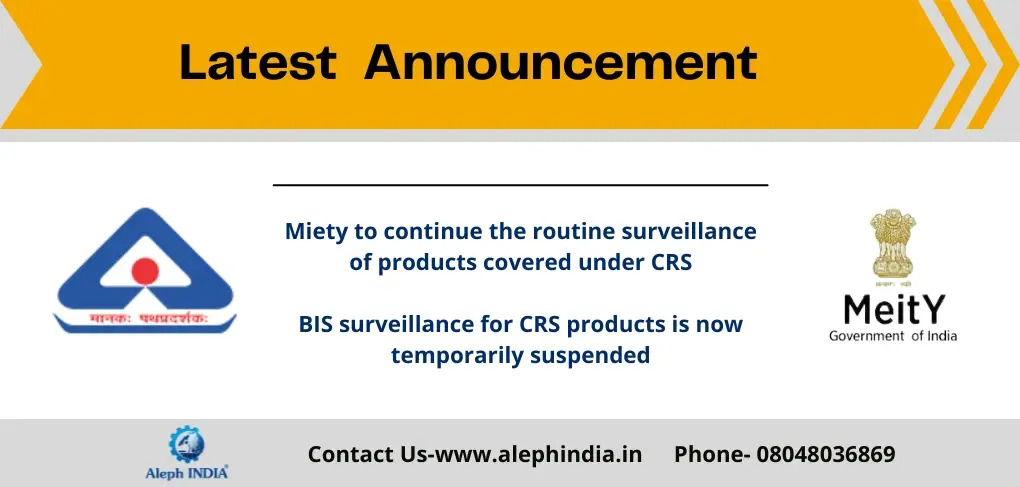 Suspension of BIS market surveillance for CRS products
BIS has issued a notification regarding the suspension of market surveillance of products covered under the compulsory registration scheme. As per this notification, BIS market surveillance for CRS products has been suspended. MeitY has informed BIS that they will continue to conduct routine surveillance of CRS-covered products and have advised BIS to suspend the surveillance process.
According to MeitY, the surveillance of the products under their jurisdiction has been suspended.
However, it was completed because BIS had already begun the process of drawing samples. A few consumer items were sampled and are being tested in BIS-approved laboratories.
The concerned licensees will be required to pay the sample cost, testing charges, and overhead in accordance with the provisions of the BIS Conformity Assessment Regulations 2018. The information will be shared with the relevant licensees in due course.
If the licensees who paid the surveillance fee do not have their samples drawn, their DDs will be returned to them.
Aleph INDIA serves the industry as a one-stop shop for all product regulatory compliance services. Aleph India assists manufacturers and importers in obtaining certification and licenses under the various schemes of the government of India. Our conformity assessment vertical will meet your certification requirements while ensuring a smooth certification process.
For any query regarding BIS Certification, Product testing, Compliance, Auditing, etc., get in touch with us at +91 9990136656.