FSSAI
INTRODUCTION
FSSAI: Although the food industry has become one of the most in-demand industries, it is still not reliable for daily consumers. One of the greatest difficulties in today's culture is adulteration, adding additives, or contamination of natural food products. Adulterants of poor quality are added to food for economic and technical reasons. To tackle this issue, the government of India formed the Food Safety and Standards Authority of India (FSSAI), which monitors, governs, and inspects food manufacturing, storage, packaging, and handling procedures of food business operators. This ultimate authority's principal goal is to regulate and supervise food safety to safeguard and promote public health.
This government agency is in charge of overseeing India's food industries and ensuring that they adhere to government regulations. Their job is to make sure that the food is pure and meets the specified requirements. Their task is to get rid of food that isn't up to standard.
WHAT IS FSSAI?
FSSAI is an acronym used for Food Safety and Standards Authority of India, an independent body recognized under the Ministry of Health & Family Welfare, Government of India. FSSAI was formed by Former Union Minister Dr Anbumani Ramadoss on 5 August 2011 under Food Safety and Standards Act, 2006, which became operational in 2006.
The Food Safety and Standards Act of 2006, which was enacted to promote food cleanliness and quality, has resulted in significant changes in the food business. Delhi, Guwahati, Mumbai, Kolkata, Cochin, and Chennai are among the authority's six regional offices. According to the Act, no person may start or operate a food business without obtaining an FSSAI license or registration. As a result, any firm that manufactures, processes, packages, or distributes food must now obtain an FSSAI License or Registration.
TYPES OF FSSAI REGISTRATION/LICENSE
FSSAI in India issues the following three types of license
FSSAI Basic Registration License - The State Government issues a basic Registration license to food industry operators such as petty food makers and small-scale manufacturers, storage units, transporters, retailers, marketers, and distributors with an annual turnover of less than Rs. 12 lakh. This license has a maximum of 5 years and a minimum of 1 year. It will only take 7 days to complete this registration.
FSSAI State License - The State Government issues this license to SMEs such as transportation, storage houses, transporters, distributors, marketers, and so on. The company must operate in only one state and have a minimum yearly sale of Rs. 12 lakh. The license is valid for a maximum of five years and a minimum of one year. The procedure for obtaining a state license from the FSSAI takes 15 days.
FSSAI Central License -The Central Government issues the license. If food producer/importer has operations in more than one state, food business operators must obtain a Central License for their main office. This license is only for FBOs with a turnover of Rs. 20 crore per year. It is valid for a minimum of one year and a maximum of five years. It takes only 25 days to process.
FUNCTIONS OF FSSAI
Following functions are performed by the Food Safety and Standards Authority of India:
Setting Rules and Guidelines - FSSAI sets up rules and guidelines that must be followed by all food manufacturing companies, considering hygiene and food safety.
Granting License - To pursue any food-related business, the owner requires to get a certificate and license with the permission of FSSAI.
Test the Standard of Food - The standard and quality of food manufactured by all companies registered under FSSAI is done by the organization themselves.
Regular Audits - Proper inspection is conducted for food-producing and manufacturing companies to make sure the standards comply with the guidelines.
Spreading Food Safety Awareness - FSSAI creates awareness and informs the citizens about the significance of safe and hygienic food consumption.
Maintain Records and Data - FSSAI also has an obligation to maintain proper records and data of all the registered organizations. Any violation of FSSAI rules can result in the termination of the license.
Keeping the Government Updated - Any food safety-related threat must be informed to the Government authorities for further action. Also, assist them in framing food standard policies.
Guideline for FSSAI Licence

WHAT ARE THE DOCUMENTS REQUIRED FOR FSSAI REGISTRATION?
The requirement of documents varies according to the type of FSSAI License. However, some major documents required are as follows
Copy of address proof
Manufacturing process with flow chart
Manufacturing layout
Brand certification
Testing facility
Equipment list
Proof of possession of premises
NOC from the municipality and local body
NOC/PA issued by FSSAI
Contact Details of Directors
FSSAI Declaration form
Source of Milk, if applicable
Proof of possession of premises
PROCEDURE FOR FSSAI REGISTRATION
Documentation FSSAI Registration starts with the collection of required documents that are necessary for the registration.
Online submission of application - Once required documents are collected, the next step is to generate the online portal on the FSSAI website and submit the application for registration to the food and safety department online.
Submission of (hardcopy) application - Also, submit the hard copy of the application with documents to Food and Safety department.
Scrutiny - FSSAI officials will verify the application, and within 7 days of the application date, the department may accept or reject the application.
Inspection from FSSAI - After scrutiny of documents, FSSAI Officials will conduct the audit in the applicant's premises. (Optional)
Grant of FSSAI Certificate - If the application is approved, the department will provide a registration certificate that includes the applicant's registration number and photo.
Sample of a Grant Certificate for FSSAI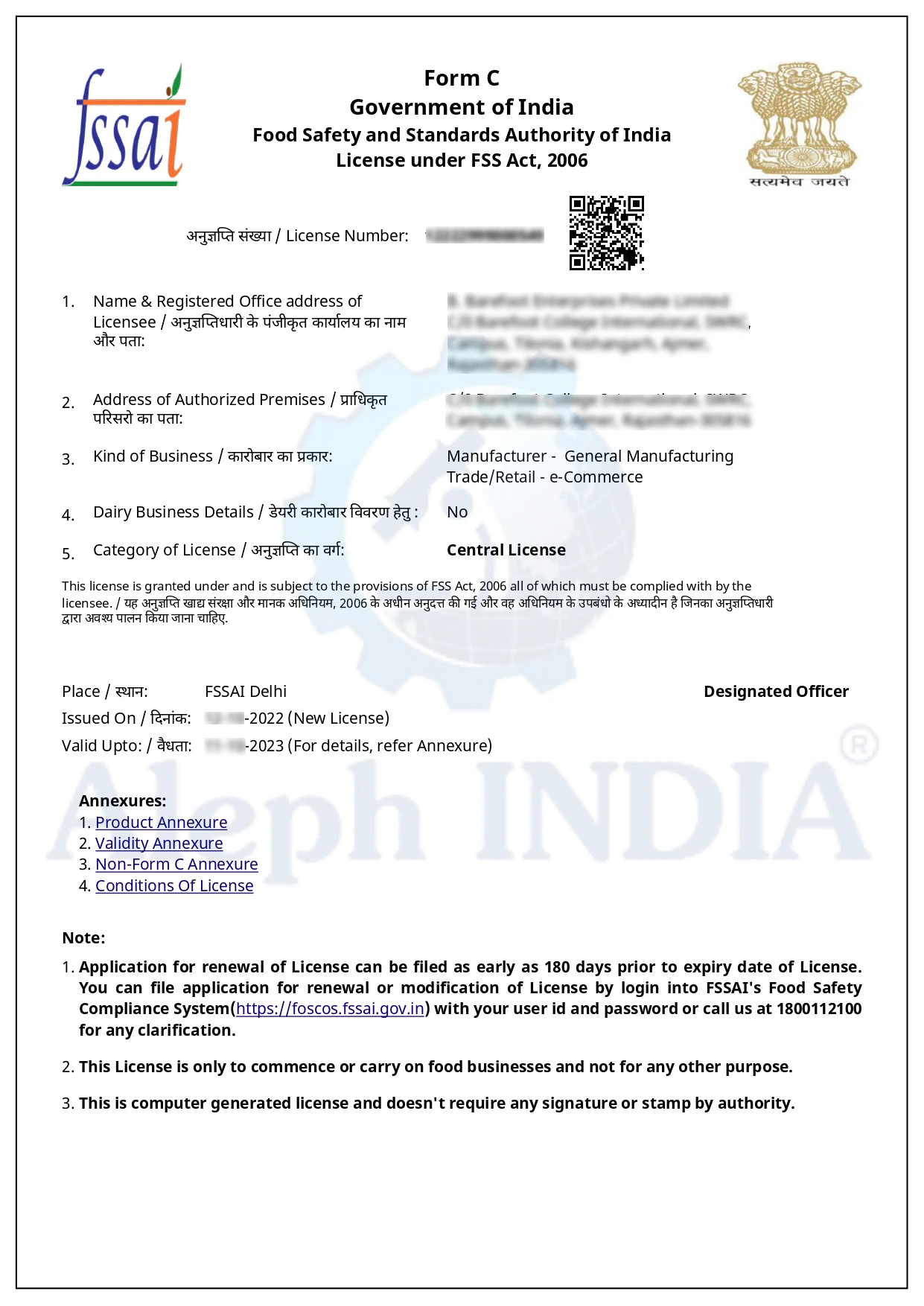 FOR WHOM FSSAI LICENSE IS MANDATORY IN INDIA
Whether you're beginning a food processing, trading, repacking, wholesaling, marketing, canteen, or restaurant, you'll need an FSSAI license. As per the rules and regulations of the Food Safety and Standards Act, 2006, it is obligatory for the following to obtain FSSAI Registration or License
All types of food manufacturer
Raw food supplier
Exporter and importer of food products
Food storage and packaging unit
Food traders
Food product retailers
Online Food business operators
Caters or Hotels
Food Products Transporter and Distributors
Wholesale food business operators
Timeline for FSSAI License
Timeline depends upon the type of license, which is as follows
Basic license - 7 days
State License - 15 - 30 days
Central license - 30-60 days
Renewal of FSSAI License
The validity of the license is 1-5 years depends on the application fee paid. A license must be renewed before 30 days of the expiry of the license.
frequently asked questions (FAQ)
FSSAI, an acronym for Food Safety and Standards Authority of India that monitors and governs registered food business in India.

The mandate assigned to the Food Authority is

Laying down science-based standards for articles of food.
To monitor the manufacture, storage, distribution, sale and import of food.
To facilitate food safety.

FSSAI Logo will build consumer trust towards your food brand/products.
Getting an FSSAI license is advantageous for opening a food business officially

Food manufacturer, Distributor, Wholesaler, Marketer, Supplier, Repacker, retailer, Takeaway, Home-based kitchen, Canteen, Dhaba, Hawker, Importer, Exporter, Club and other who deal in the food business.

It is 14-digit number that gives information about the food business owner license number. FSSAI logo will be displayed by the brand owner with his license number on the food package label. The importer shall display the FSSAI logo and license number as well as the name and address of the importer in the case of the imported food product. 1. No. XXXXXXXXXXXXX

To get an FSSAI License click here.

Officer rejects the application if the required information is not provided within the stipulated time of 30 days.

If you are looking for food license registration in India or other cities like Mumbai, Delhi etc., you can contact ALEPH INDIA.

The Validity of the FSSAI License is from 1 year to 5 years. Hereafter, the particular FBO needs to apply for FSSAI License renewal.

Yes, you need to take a Central FSSAI license for the main branch or head office and the State FSSAI licenses for any specific state.

Due to a lack of knowledge about how to apply effectively, obtaining registration is difficult. We are familiar with the entire registration process and have assisted hundreds of food company owners just like you. We apply for FSSAI registration on your behalf and provide you with your registration number within the specified time frame.
Request a call back.
Would you like to speak to one of our Senior Technical advisers over the phone? Just submit your details and we'll be in touch shortly. You can also email us if you would prefer.
Request a call back.
Would you like to speak to one of our Senior Technical advisers over the phone? Just submit your details and we'll be in touch shortly. You can also email us if you would prefer.