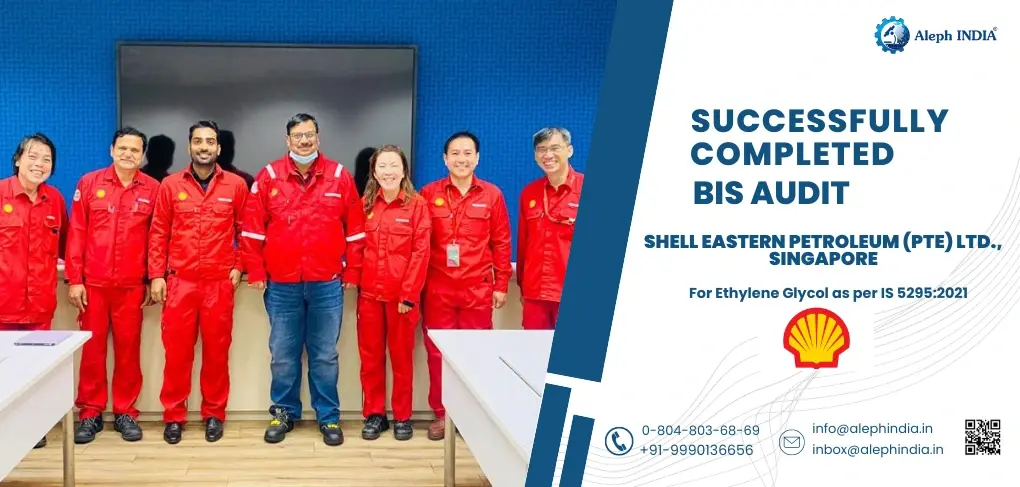 BIS Audit of Shell Eastern Petroleum (Pte) Ltd., Singapore
We are delighted to share this great news that Aleph INDIA Group once again successfully achieved the milestone by completing the BIS Inspection for our reputable client M/s Shell Eastern Petroleum (Pte) Ltd., Singapore, under the supervision of Mr. USP Yadav, Deputy Director General, Bureau of Indian Standards, and Mr Yogesh Kant Tiwari - Aleph INDIA, for the product Ethylene Glycol in accordance with IS 5295:2021.
The Bureau successfully evaluates the manufacturing infrastructure, production process, the ability to control quality, and testing capabilities before a BIS license is issued. Aleph INDIA assists manufacturers and importers in having their products tested and verified to obtain a BIS certification for Ethylene Glycol as per IS 5295:2021.
Aleph INDIA Group provides a one-stop solution for all product regulatory compliance services such as product certification, testing, training, auditing, and many others. We are committed to delivering world-class auditing and quality control assurance services. We ensure that the manufacturing process and unit comply with international standards and that the product produced is of high quality. We guarantee our manufacturer clients that their products will have a credible image in the market.
Contact us at +91 9990136656 For a free consultation on BIS ISI Mark Certification, Product Testing, Compliance, and Auditing services.