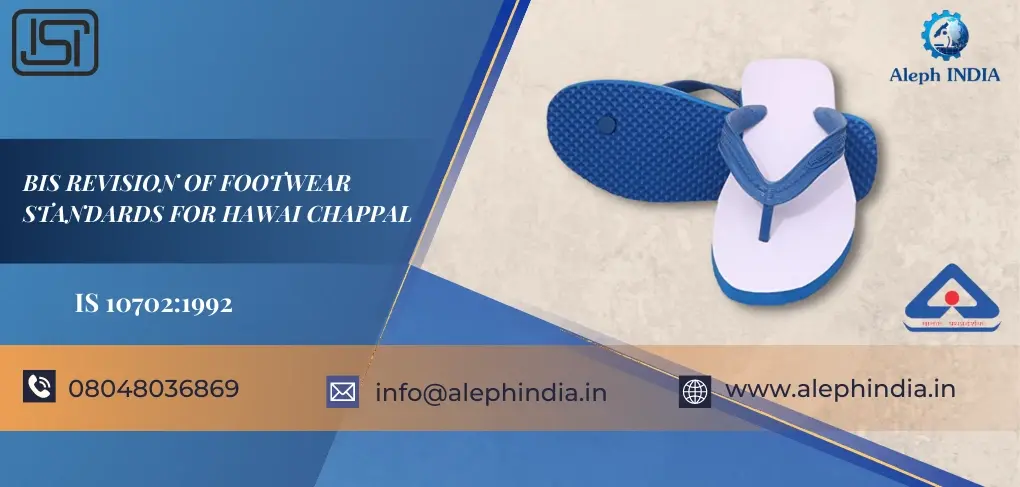 BIS REVISION OF FOOTWEAR STANDARDS FOR HAWAI CHAPPAL IS 10702:1992
India's standard development process has been led by the Bureau of Indian Standards (BIS). All established standards are reviewed on a regular basis, at least once every five years, to determine whether they need to be revised or withdrawn. BIS is revising footwear standards related to Hawai chappal.
Rubber Hawai Chappals are covered under IS 10702:1992. This standard of Hawai chappals is going to be revised by BIS. This standard specifies the requirements for rubber Hawai Chappal for general use, as well as sampling and testing methods. The purpose of this standard is to assist manufacturers in maintaining product quality. Rubber Hawai chappals, which are light-duty footwear for general use, are very popular in India.
Rubber Hawai Chappals are classified into two types based on the design of the sole.
Type 1: Rubber Hawai Chappal with a uniform sole thickness
Type 2: Rubber Hawai Chappal with taper sole design
BIS license may be required to sell products in the Indian market. To obtain BIS certification and produce a standard quality product, the manufacturer must ensure that their product must follow the specified Indian standard. The rubber Hawai chappal may also be marked with the ISI certification mark, and packaging and marking must be done as per the standards. Manufacturers must obtain a BIS license from the Bureau of Indian Standards to use a standard mark.
BIS has yet to notify the revision of footwear standards related to Hawai Chappals. It is recommended that all manufacturers and importers stay up to date about BIS regulations for their products. Aleph INDIA is the best choice for all manufacturers, and importers, offer the best regulatory compliance services. Our conformity assessment vertical will meet all of your certification requirements with full assurance of a complete certification process and hustle-free procedures.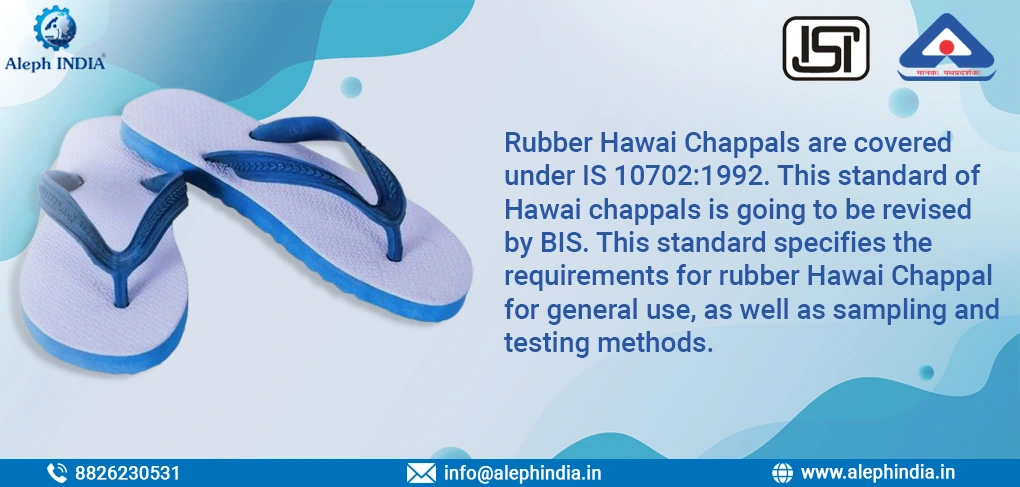 Aleph INDIA provides a single window for all product regulatory compliance to the industry. Aleph India assists manufacturers and importers in obtaining certification and licenses under the various schemes of the government of India. Aleph INDIA is always here for you to provide the finest results at any time.
For any query regarding BIS Certification, Product testing, Compliance, Auditing, etc., get in touch with us at +91 9990136656.
Click Here for BIS Latest Updates