BIS CERTIFICATION FOR AC STATIC TRANSFORMER OPERATED WATTHOUR METERS & VAR-HOUR METERS
IS 14697:2021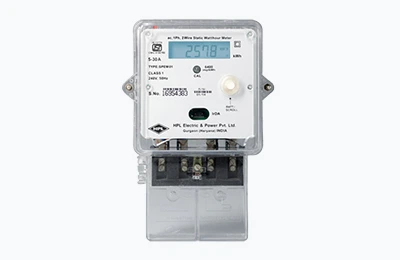 In this competitive scenario, it isn't easy to survive in the market without a standard quality and certified product. BIS license may also be required to sell products in the Indian market.
To get BIS certification and produce a standard quality product, the manufacturer must ensure that their product must follow the specified Indian standard.
Let's take a closer look at IS 14697:2021 for a.c. static transformer operated watthour meters (class 0.2 s and 0.5 s) and var-hour meters (class 0.2 s, 0.5 s and 1 s).
This standard specifies static watthour meters with accuracy classes 0.2 S, 0.5 S, and 1 S, as well as var-hour meters with accuracy classes of 0.2 S, 0.5 S, and 1 S, for measuring alternating current electrical active and reactive energy at frequencies ranging from 45 Hz to 55 Hz for single-phase and three-phase balanced and unbalanced loads.
It only applies to transformer-operated static watthour meters with measuring element(s) and register(s) enclosed in the meter case. It is also applicable to the operation indicator(s) and the test output (s). It also applies to meters with multiple rate tariffs and meters that measure energy in both directions.
Some static reactive energy (var-hour) meters may be considered to be covered by this standard as if they were active energy (Watthour) meters of appropriate accuracy class with necessary power factor adjustment. It is preferable to have the same accuracy class for active and reactive energies in a meter; however, this standard allows the reactive energy accuracy class to be one level lower than the active energy accuracy class.
This does not apply to the following:
Watthour and var-hour meters where the voltage across the connection terminal exceeds 600 V (line to line voltage for meters in polyphase systems)
Portable and outdoor meters
Data interfaces to the meter register.
The mechanical requirements for rack-mounted meters are not covered by this standard.
Meters are classified based on their respective class indices, such as 0.2 S or 0.5 S.
Meters must be designed and built in such a way that they do not introduce any danger in normal use and under normal conditions, ensuring personal safety against electric shock, excessive heat, and fire. The meter must have a case that can be sealed so that the internal parts of the meter can only be accessed after breaking the seal.
TESTS
All the tests shall be carried out in accordance with the standard.
General and Constructional Requirements
a.c. High Voltage Test
Insulation Test
Accuracy Requirements (Limits of Error)
Test of starting condition
Test of no-load condition
Power Consumption
marking
Marking shall be done as per the requirements of IS 14697:2021. Ac static watthour meter can also be marked with a standard mark (ISI Mark). Manufacturers must obtain a BIS license from the Bureau of Indian Standards to use a standard mark (ISI Mark). The Bureau grants a license based on a successful assessment of manufacturing infrastructure, production process, and testing capabilities during a visit to its manufacturing premises.
NOTE:
For Detailed Information about the Procedure for BIS ISI Certification, Visit :
Conclusion:
If a product falls under the scope of the BIS Conformity Assessment Scheme, All the manufacturers, importers, and foreign entities must obtain BIS ISI Certification. The Bureau may cancel the License if the product fails to meet certification requirements.
Aleph INDIA has been serving the industry as a single-window operator for all product regulatory compliance. We can assist importers or manufacturers in meeting all criteria for importing or selling a product in the Indian market.
Request a call back.
Would you like to speak to one of our Senior Technical advisers over the phone? Just submit your details and we'll be in touch shortly. You can also email us if you would prefer.
Request a call back.
Would you like to speak to one of our Senior Technical advisers over the phone? Just submit your details and we'll be in touch shortly. You can also email us if you would prefer.