BIS CERTIFICATION FOR CIRCUIT BREAKERS AC OPERATION
IS/IEC 60898-1:2015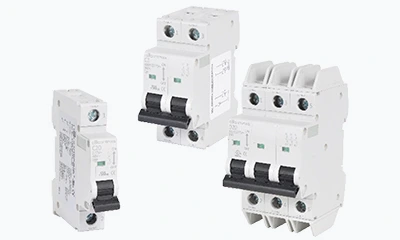 In this competitive scenario, it isn't easy to survive in the market without a standard quality and certified product. BIS license may also be required to sell products in the Indian market.
To get BIS certification and produce a standard quality product, the manufacturer must ensure that their product must follow the specified Indian standard.
Let's take a closer look at IS/IEC 60898-1:2015 for Circuit Breakers.
IS 60898-1:2015 covers circuit breaker for a.c operation. This part of IEC 60898 applies to ac. air-break circuit-breakers that operate at 50 Hz or 60 Hz and have a rated voltage of not more than 440 V, a rated current of not more than 125 A, and a rated short-circuit capacity of not more than 25 000 A.
These circuit breakers are intended to protect against overcurrents in building wiring installations and similar applications; they are designed for use by uninstructed people. This standard also applies to circuit breakers with more than one rated current, provided that the means for changing from one discrete rating to another is not accessible in normal service, and the rating cannot be changed without the use of a tool.
This standard does not apply to circuit-breakers designed to protect motors and whose current setting is adjustable via user-accessible means.
IEC 60898-2 specifies the requirements for a.c. and d.c. circuit breakers. Circuit breakers are classified based on several criteria, including the number of poles, protection against external influences, connection methods, fixation system, etc.
Circuit breakers must be designed and built in such a way that their performance is reliable and poses no risk to the user or the environment in normal operation. A laboratory shall be maintained, suitably equipped and staffed where All compliance shall be verified by performing all of the specified tests.
TESTS
Tests shall be carried out as per the method specified in the standard.
Tripping Test
Temperature Rise
Tripping Characteristics
Resistance to Mechanical Shock
Packing and marking:
Packing and marking shall be done as per IS/IEC 60898-1:2015. The manufacturer shall obtain a BIS license for circuit Breakers for a.c. Operation from the Bureau of Indian Standards to use a standard mark (ISI Mark). BIS will grant a license after conforming to all the relevant requirements of applicable Indian standards.
NOTE:
For Detailed Information about the Procedure for BIS ISI Certification, Visit :
Conclusion:
If a product falls under the scope of the BIS Conformity Assessment Scheme, All the manufacturers, importers, and foreign entities must obtain BIS ISI Certification. The Bureau may cancel the License if the product fails to meet certification requirements.
Aleph INDIA has been serving the industry as a single-window operator for all product regulatory compliance. We can assist importers or manufacturers in meeting all criteria for importing or selling a product in the Indian market.
Request a call back.
Would you like to speak to one of our Senior Technical advisers over the phone? Just submit your details and we'll be in touch shortly. You can also email us if you would prefer.