BIS CERTIFICATION FOR SAFETY REQUIREMENTS FOR TOYS
IS 9873: PART 1:2019/ISO 8124-1:2018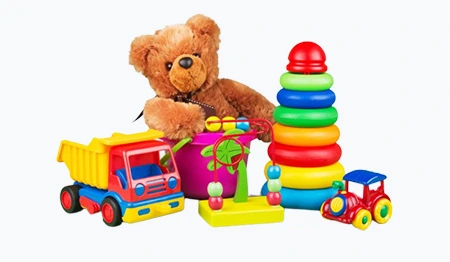 In this competitive scenario, it isn't easy to survive in the market without a standard quality and certified product. BIS license may also be required to sell products in the Indian market.
To get BIS certification and produce a standard quality product, the manufacturer must ensure that their product must follow the specified Indian standard.
Let's take a closer look at IS 9873-1:2019.
The Bureau of Indian Standards adopted this Indian Standard (Part 1), which is identical to ISO 8124-1: 2018 'Safety of toys - Part 1: Safety aspects related to mechanical and physical properties' issued by the International Organization for Standardization (ISO), on the recommendation of the Plastics Sectional Committee and with the approval of the Petroleum, Coal, and Related Products Division Council.
This standard's requirements apply to all toys, i.e., any product or material designed or clearly intended for use in play by children under the age of 14. They apply to a toy when it is first received by the consumer and after it has been subjected to reasonably foreseeable conditions of normal use. The requirements of this part specify acceptance criteria for structural characteristics of toys such as shape, size, contour, and spacing and acceptable criteria for properties unique to specific toy categories. This section specifies the requirements and testing methods for toys intended for use by children ranging in age from birth to 14 years.
This Indian Standard is divided into several parts. The following are the parts of this standard:
| S.No. | IS No. | Covered in IS |
| --- | --- | --- |
| 1. | IS 9873 (Part 1):2019 | Safety Aspects Related to Mechanical and Physical Properties |
| 2. | IS 9873 (Part 2): 2017 | Flammability |
| 3. | IS 9873 (Part 3): 2017 | Migration of Certain Elements |
| 4. | IS 9873 (Part 4): 2017 | Swings, Slides and Similar Activity Toys for Indoor and Outdoor Family Domestic Useś |
| 5. | IS 9873(Part 5):2017 | Determination of total concentration of certain elements in toys |
| 6. | IS 9873 (Part 6):2017 | Determination of certain phthalate esters in toys and children' s products |
| 7. | IS 9873 (Part 7): 2017 | Requirements and Test Methods for Finger Paints |
| 8. | IS 9873 (Part 8): 2017 | Age determination guidelines |
| 9. | IS 9873 (Part 9) :2017 | Certain Phthalates Esters in Toys and Children's Products |
| 10. | IS 15644:2006 | Safety of Electric Toys |
Toys have been classified into two types for the purposes of certification. For each type, one primary standard will apply, against which a license will be granted, and the other standard, against which testing may also be required, will be considered secondary.
To ensure that risks from normal wear and deterioration are minimized, all toys must be tested in accordance with the relevant tests. Toys labelled as washable must be washed in accordance with the standard. Following testing, the toy must continue to meet the relevant requirements of Clause 4 of the standard. All materials must be visually clean and free of infestation. The test methods specified shall be used to determine the compliance of toys with the requirements of this part of the standard.
Tests
Tests shall be carried out in accordance with the method specified.
Small parts Tests
Tests for shape and size
Small balls test
Test for pompoms
Sharp edge test
Sharp point test
Test for cords
Stability and overload tests
marking:
Toys or their packaging must mark with the name, trademark, model, or type. The Standard Mark (ISI Mark) shall be legibly and indelibly marked on the primary packaging or on the toy itself, provided that the material so marked meets the requirements of the specification.
Packing and marking shall be done in accordance with the Indian Standard. The Manufacturer must obtain a BIS license from the Bureau of Indian Standards to use a standard mark (ISI Mark). The BIS grants a license based on a successful assessment of manufacturing infrastructure, quality control and testing capabilities, and production process during a visit to its manufacturing premises.
NOTE:
For Detailed Information about the Procedure for BIS ISI Certification
Conclusion:
If a product falls under the scope of the BIS Conformity Assessment Scheme, All the manufacturers, importers, and foreign entities must obtain BIS ISI Certification. The Bureau may cancel the License if the product fails to meet certification requirements.
Aleph INDIA has been serving the industry as a single-window operator for all product regulatory compliance. We can assist importers or manufacturers in meeting all criteria for importing or selling a product in the Indian market.
Know more about certification process, Request a callback Click here
International Audits & Participation
Request a call back.
Would you like to speak to one of our Senior Technical advisers over the phone? Just submit your details and we'll be in touch shortly. You can also email us if you would prefer.
Request a call back.
Would you like to speak to one of our Senior Technical advisers over the phone? Just submit your details and we'll be in touch shortly. You can also email us if you would prefer.