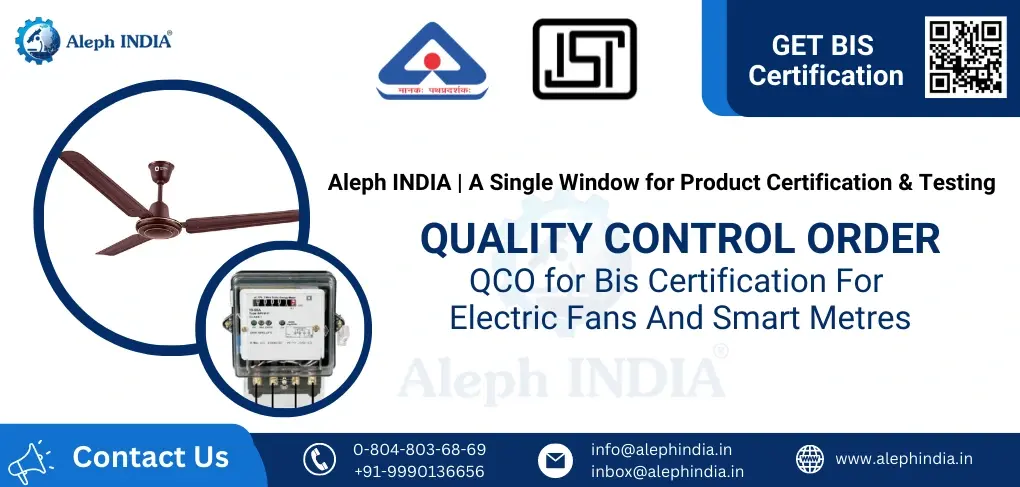 BIS CERTIFICATION FOR ELECTRIC FANS AND SMART METERS
The Indian government is planning to issue QCO, mandating BIS certification for electric fans and smart meters.
The Ministry of Commerce and Industry will soon issue quality control orders (QCOs) to check imports of electric fans and smart meters, especially those from China, after successfully limiting toy imports through proper quality checks. To help our industry and consumers, the ministry is considering introducing quality control orders for mass-produced goods like smart meters and ceiling fans.
Ceiling fan imports into India increased 132% to $6.22 million in FY22. Imports of electricity smart meters totalled $3.1 million in FY22, with China accounting for approximately $1.32 million of that total. After the toy quality control order issuance in 2020, the toy imports decreased by 70% over the following three years, from $371 million in FY19 to $110 million in FY22. Over the same time period, imports of toys from China decreased by 80% to $59 million.
Officials from the industry department are also looking at the standards for all goods the domestic industry can produce. Wherever product manuals, standardization procedures, and testing laboratories are available, the government attempts to put QCOs. Since the pandemic, the government has begun enforcing quality controls in order to reduce non-essential imports and support domestic industry growth.
While the BIS certification scheme is voluntary in nature, the central government has made compliance with Indian standards mandatory for a number of products for various reasons, such as public interest, protection of human, animal, or plant health, environmental safety, the prevention of unfair trade practices, and national security. For such products, various central government line ministries require using a standard mark under a license from BIS via issuing QCOs. After consulting with BIS and stakeholders, the central government publishes those QCOs.
To use the standard mark and sell their products in the Indian market, manufacturers must obtain BIS certification for their products. The BIS Certificate is only issued after the product has been verified to meet all applicable Indian standards. All manufacturers must ensure that their product meets the requirements of all applicable Indian standards in order to obtain a BIS Licence. The Bureau grants a BIS license after successfully assessing the manufacturing infrastructure, production process, quality control, and testing capabilities. Aleph INDIA helps manufacturers and importers get their products tested and verified so that they can obtain a BIS certification.
Aleph INDIA offers a single point of contact for all kinds of Product Certification, testing, training, and auditing. Our conformity assessment vertical will satisfy your certification needs while ensuring a smooth certification process.
For any query regarding BIS Certification, Product testing, Compliance, Auditing, etc., get in touch with us at +91 9990136656.