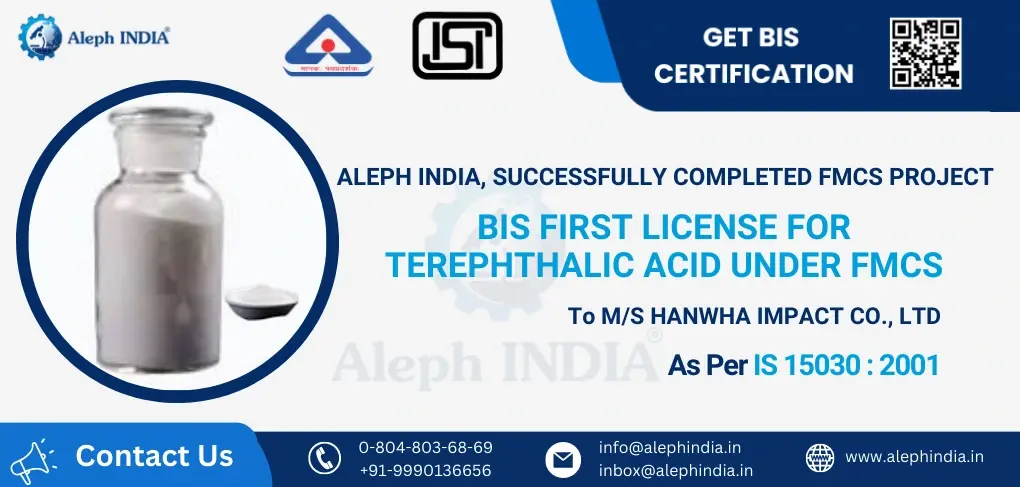 SUCCESSFULLY GRANTED BIS FIRST LICENCE FOR TEREPHTHALIC ACID UNDER FMCS
It gives us great pleasure to inform you that Aleph India has successfully completed another FMCS project for the First BIS certification for "Terephthalic Acid" in accordance with IS 15030:2001.
The Bureau of Indian Standards recently granted a BIS First Licence to a foreign manufacturer for "Terephthalic Acid" in compliance with IS 15030:2001. M/S Hanwha Impact Co., Ltd, Seoul, South Korea, has been granted the first BIS licence for "Terephthalic Acid" under FMCS in accordance with IS 15030:2001. Aleph INDIA assisted them through every step of the procedure so that they could obtain a BIS Licence for Terephthalic Acid under the Foreign Manufacturer Certification Scheme on time.
Terephthalic Acid is covered under 15030:2001. This standard specifies the requirements, sampling method, and tests for pure terephthalic Acid. Under FMCS, BIS grants a licence to the foreign manufacturer for the products that conform to applicable Indian Standards. To sell Terephthalic Acid in the Indian market and use a standard ISI mark, all manufacturers must obtain a BIS license for Terephthalic Acid from the Bureau of Indian Standards. The manufacturer must ensure that the products meet Indian standards to get a BIS certificate for Terephthalic Acid. The Bureau grants a BIS license based on a successful assessment of the manufacturing infrastructure, production process, quality control, and testing capabilities.
For More Information Check : ISI Mark for Terephthalic Acid
It is mandatory to obtain BIS certification for Terephthalic Acid to use Standard mark and sell into India. Aleph INDIA BIS Consultant assists manufacturers and importers in having their products tested and certified to obtain a BIS licence on time.
Aleph INDIA provides a one-stop shop for all regulatory compliance requirements, such as testing, training, auditing, and product certification. Our conformity assessment vertical will meet your certification requirements while ensuring a smooth certification procedure.
Please contact us at +91 9990136656 if you have any queries about BIS Certification, Product Testing, Compliance, or Auditing.