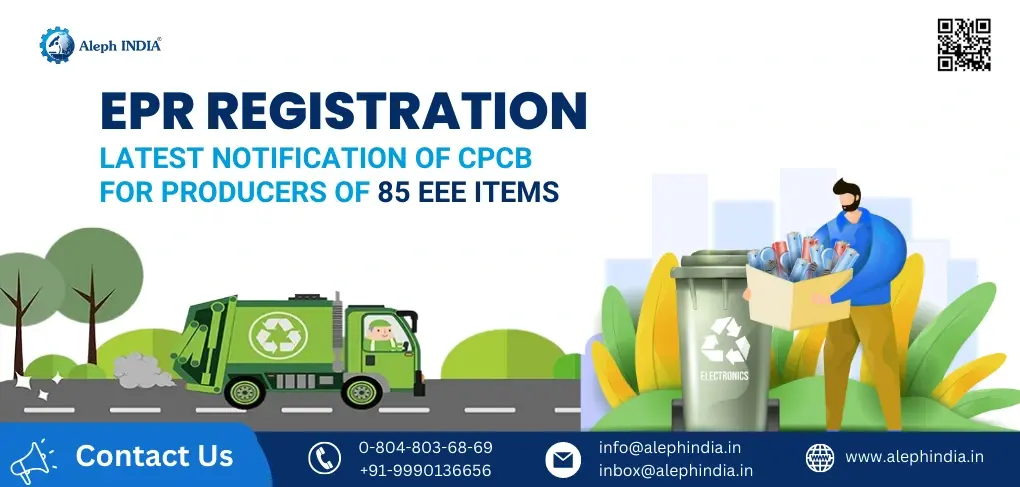 CPCB Notification Regarding Undertaking for producers of 85 EEE items
The E-Waste (Management) Rules 2022, from the Central Pollution Control Board (CPCB), effective from 1st April 2023. As per this rule all producers of electronic and electrical equipment are required to register on the EPR portal of the CPCB. The EPR portal is currently under up-gradation and is expected to be operationalized by 30th April 2023.
The CPCB has requested that imported consignments of producers of 85 Electronic and Electrical Equipment (EEE) items (ITEW 17 to ITEW 27, CEEW 6 to CEEW 19, LSEEW 1 to LSEEW 34, EETW 1 to EETW 8, TLSEW 1 to TLSEW 6, MDW 1 to MDW 10 and LIW 1 to LIW 2) may be released only after taking an undertaking as per the enclosed format from the producers as defined in the aforementioned rules.
The undertaking requires the producers to submit a copy of the online generated EPR Registration Certificate from the concerned online portal of CPCB not later than one (1) month from the date of submission of the undertaking. The producers must also submit the copy of the undertaking at the email id (ewaste2.cpcb@gov.in).
The CPCB notification is attached below with the undertaking form
It is crucial for producers to comply with these new rules to ensure proper management and disposal of electronic and electrical waste. The e-waste generated in India is expected to reach 5.2 million metric tons by 2025, making it crucial for the government to implement policies to manage e-waste and its hazardous impact on the environment and human health.
Looking for EPR Registration for e-Waste Management: EPR REGISTRATION FOR E-WASTE MANAGEMENT
Producers must take proactive measures to ensure that their products are properly managed and disposed of after their useful life. The E-Waste (Management) Rules 2022 provide a comprehensive framework for the management of e-waste and the responsibility for the same lies with the producers.
Aleph India is the first choice for manufacturers, importers, and brand owners because we provide the best regulatory compliance services. Our conformity assessment vertical will meet your certification needs while ensuring a smooth certification process.