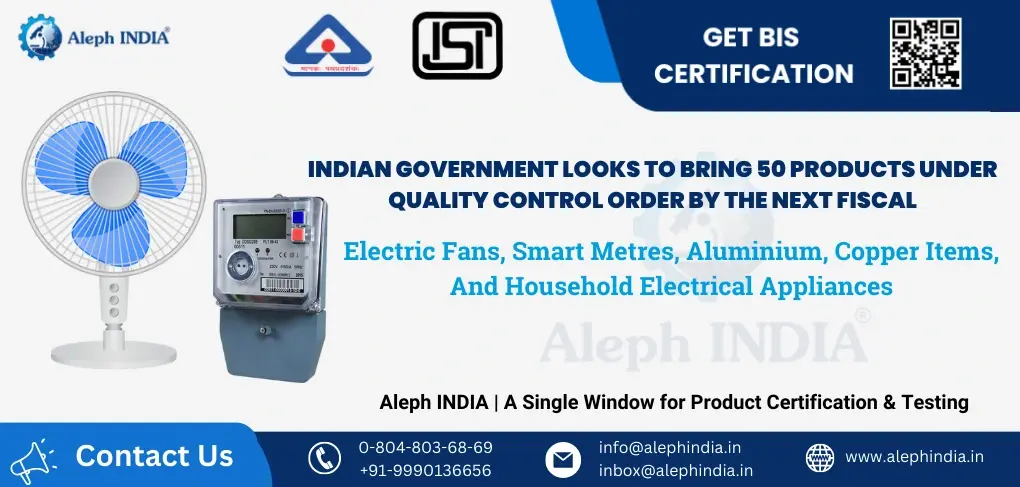 India looking to bring 50 products under quality control order
By the second quarter of 2023-2024, the Indian government is likely to issue QCO, mandating BIS certification for up to 50 products, including electric fans, smart metres, aluminium, copper items, and household electrical appliances, in order to limit imports of substandard goods and promote domestic industry.
DPIIT is in the process of formulating QCO for various products by the end of the second quarter of 2023-24. According to DPIIT communication, it is constantly engaged with BIS (Bureau of Indian Standards) and concerned stakeholders to identify products for which quality control orders (QCOs) may be issued. Wherever product manuals, standardization procedures, and testing laboratories are available, the government attempts to put QCOs. The department issues these orders in compliance with the WTO Agreement on Technical Barriers to Trade (TBT) for industries that fall under its jurisdiction.
Since the pandemic, the government has begun enforcing quality controls in order to reduce non-essential imports and support domestic industry growth. Earlier, the government issued Quality Control Orders (QCOs) for various products, including domestic refrigerating appliances, particularly steel and cable items, toys, and bicycle retro-reflective accessories. These orders also help in limiting non-essential imports. After effectively limiting toy imports through thorough quality inspections, the Ministry of Commerce and Industry will issue quality control orders (QCOs) to monitor imports of electric fans, smart metres, aluminium, and other items, particularly those from China.
While the BIS certification scheme is voluntary, the central government has made compliance with Indian standards mandatory for a number of products for various reasons, such as public interest, human, animal, or plant health protection, environmental safety, the prevention of unfair trade practices, and national security. Various central government line ministries mandate the use of a standard mark under a BIS licence via QCOs for such products. After consulting with BIS and stakeholders, the central government publishes those QCOs.
Aleph INDIA offers a single window for all kinds of Product Certification, testing, training, and auditing. Our conformity assessment vertical will satisfy your certification needs while ensuring a smooth certification process.
For any query regarding BIS Certification, Product testing, Compliance, Auditing, etc., get in touch with us at +91 9990136656.