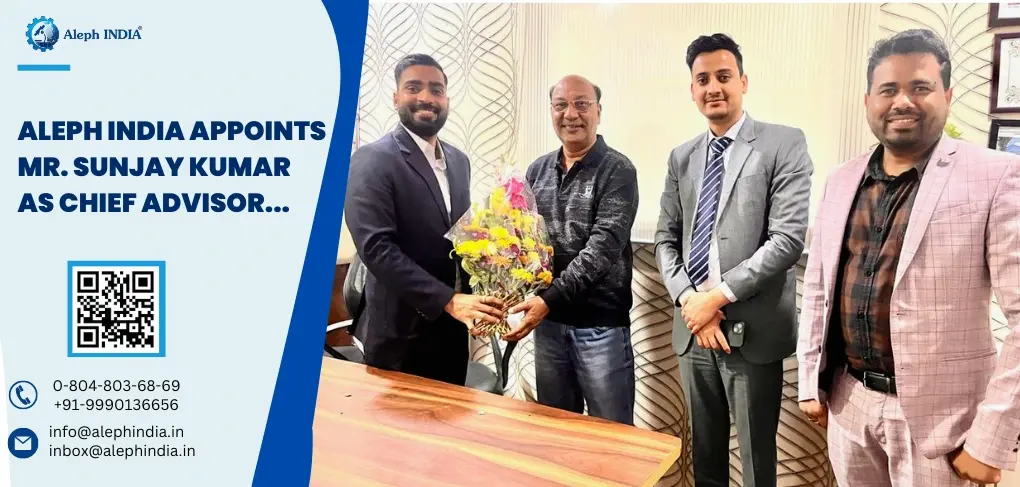 Aleph INDIA Strengthens Technical Expertise with Appointment of Mr. Sunjay Kumar as Chief Advisor
Aleph INDIA is pleased to announce that Mr. Sunjay Kumar has been appointed as the Chief Advisor of the company. Mr. Kumar is an inspiring personality with over 35 years of expertise in the field of standardization, regulatory compliances and Conformity assessment schemes.
Prior to joining Aleph INDIA, Mr. Kumar served as the Deputy Director General at the Bureau of Indian Standards (BIS). During his tenure, he played a key role in elevating BIS and was one of the individuals responsible for the majority of the actions related to standardization, regulatory compliances and Conformity assessment schemes. His contributions have been recognized and he is regarded as the most promising Advisor as well as the Leader of this industry.
In addition to his impressive career accomplishments, Mr. Sunjay Kumar holds a B.E. in Metallurgy from the University of Roorkee (now known as IIT, Roorkee). He also served in a steel plant for five years before joining BIS, gaining valuable experience in the field.
During his time at BIS, Mr. Kumar served in almost all fields, including certification, standardization, laboratory, management system certification, and foreign management certification departments. This comprehensive experience has given him a deep understanding of the industry and its various aspects.
As the Chief Advisor of Aleph INDIA, Mr. Kumar will bring his wealth of experience and knowledge to help the company achieve its goals. He was appointed on Feb 17, 2023, and we are thrilled to have him on board.
Under Mr. Kumar's leadership, we are confident that we will continue to enhance the quality of our products and services and provide our clients with the highest levels of satisfaction. His appointment is a testament to our commitment to excellence and we look forward to working with him to achieve our shared vision.
Aleph India is the first choice for manufacturers, importers, and brand owners because we provide the best regulatory compliance services. Our conformity assessment vertical will meet your certification needs while ensuring a smooth certification process.