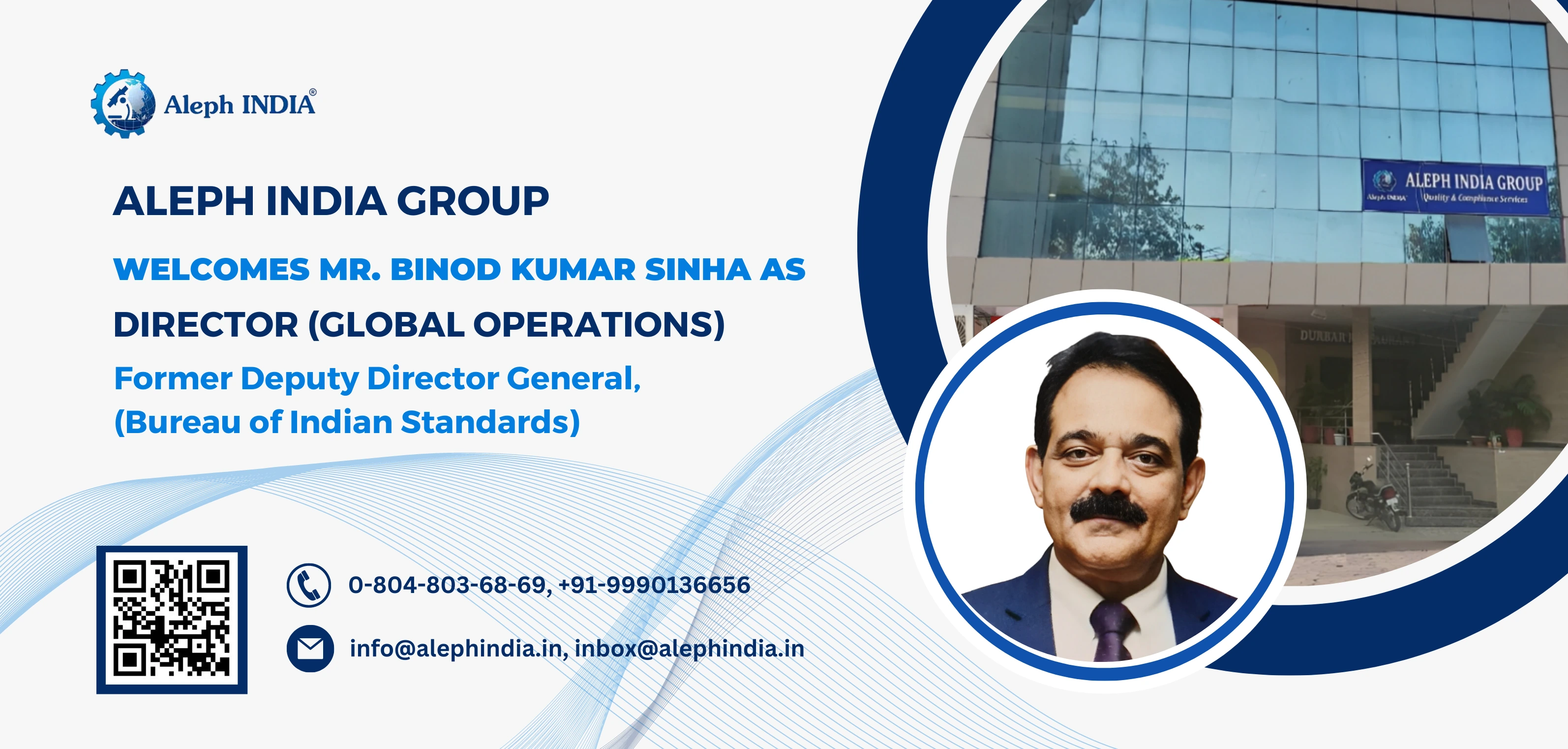 Aleph India Group Welcomes Mr. Binod Kumar Sinha (Former DDG - BIS) as Director, Global Operations
We are thrilled to announce the appointment of Mr. Binod Kumar Sinha as the Director (Global Operations) at Aleph INDIA Group, a leading organization in the field of standardization and conformity assessment. With an illustrious career spanning 36 years at the Bureau of Indian Standards (BIS), the National Standards Body of India, Mr. Sinha brings a wealth of expertise and experience to our team.
Mr. Sinha's impressive educational background includes a B.Tech in Civil Engineering from IIT BHU, a Master's degree in Urban & Regional Planning from the School of Planning and Architecture in New Delhi, and a PG diploma in Management. Furthermore, he is a Certified Lead Auditor of many Management Systems, showcasing his commitment to excellence in the field.
Throughout his tenure at BIS, Mr. Sinha held various esteemed positions in many key departments, including Deputy Director General of BIS. As the Head of the Civil Engineering Department, his notable contributions include the revision of the National Building Code 2005, leading to the development of the revised and updated NBC 2016. This significant achievement has greatly influenced the construction industry in India. Furthermore, he was instrumental in upgrading the BIS Central Laboratory in Sahibabad, leading to the award of NABL accreditation in testing and calibration areas.
At present, recognized as a Senior National Trainer, Mr. Sinha has been playing a pivotal role as a faculty in areas such as Standardization, Conformity Assessment, Laboratory Testing and Calibration, and Management Systems. He has also been conducting many prestigious Conformity Assessment Audits as Team Leader within India as well as abroad. Moreover, his role as a Senior BIS Resource Person will contribute to fostering a culture of quality and standardization at various levels in the country.
In his new role as Director (Global Operations) at Aleph INDIA Group, Mr. Sinha will be serving as a Leader for entire activities and services provided by the company globally, leading the Aleph group to new heights.