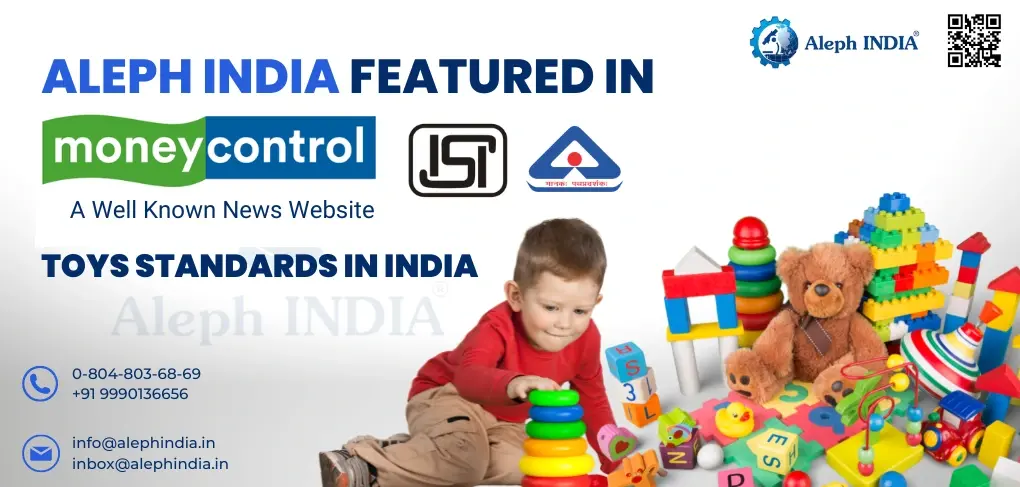 Aleph INDIA Featured in Money control (News Website)
We are happy to share the news that Aleph INDIA's Director Mr. Raghvendra Singh's interview on "Toy Safety Standards in India" has been featured on Money Control (a well-known news website). Mr. Raghvendra Singh was interviewed by Money Control, the biggest store of news (text and videos) and the largest online financial news platform in India.
As per Toys (Quality Control) Order 2020, all toys must meet applicable Indian standards and bear the BIS standard mark. BIS has mandated that all-electric and non-electric toys bear the ISI mark, and toys without an ISI mark are not permitted to be sold in the country. As per the BIS act, manufacturing and selling toys without a standard ISI mark is illegal and punishable by a fine of 2 lakhs or two years in prison. The responsibility is on the manufacturers to adhere to the BIS quality standards," says Raghvendra Singh.
Check the Featured Article : A toy (safety) story
BIS director said that fake/non-ISI-marked products are routinely manufactured and sold to customers for a huge profit, putting their health and safety at risk. Therefore, Customers are advised only to buy genuine ISI Marked products. BIS is conducting a nationwide enforcement drive against outlets selling toys without a valid BIS license to prohibit the sale of low-quality toys on the market. Toys were seized in large quantities during BIS raids this month at 25 locations around the country.
For More Information, Check : ISI Marks for Toys
Obtaining BIS certification for toys to use the standard ISI mark is mandatory. It can only be manufactured, imported, distributed, and sold with the BIS Certification Mark. Therefore, to sell toys into the Indian market and use the ISI mark, all toy manufacturers must obtain a BIS license from the Bureau of Indian Standards as per IS 9873 (Part 1):2019 and IS 15644:2006. Aleph INDIA assists manufacturers and importers in having their products tested and certified to obtain a BIS license on time. Aleph INDIA provides a one-stop shop for all regulatory compliance requirements, such as testing, training, auditing, and product certification. Our conformity assessment vertical will meet your certification requirements while ensuring a smooth certification procedure.
Please get in touch with us at +91 9990136656 if you have any queries about BIS Certification for toys, Product Testing, Compliance, or Auditing.