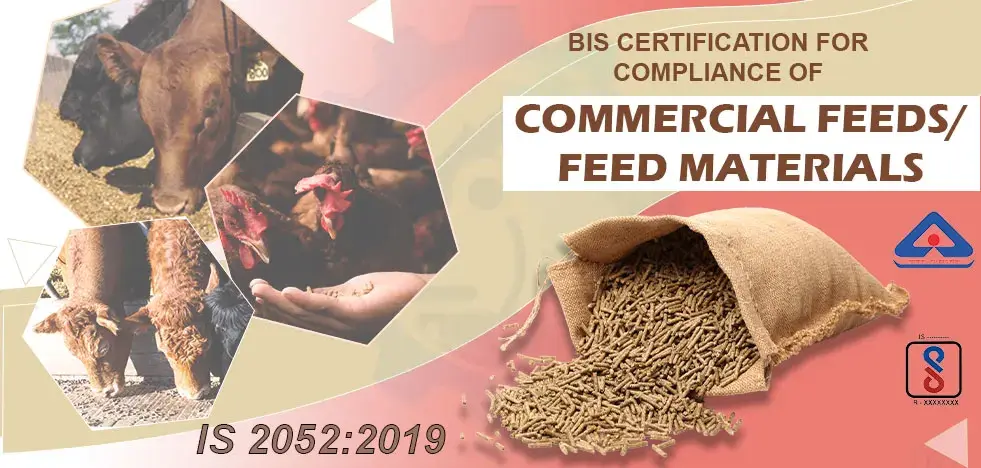 BIS EXTENSION FOR COMPLIANCE OF COMMERCIAL COMPOUNDED CATTLE FEEDS
The Government of India and Food Safety and Standard Authority of India have again extended the timeline for compliance of Commercial Feeds/ Feed Material to meet the relevant Indian standards intended for meat and milk-producing animals.
This direction regarding Commercial Feeds/Feed Material compliance was issued on 27th January 2020 under 16(5) of the Food Safety and Standard Act, 2006.
In 2009, the Bureau of Indian Standards developed the standard for feeds/feed material intended for meat and milk-producing animals. In December 2019, FSSAI had made it mandatory that commercial feeds/feed materials comply with the relevant BIS standard. It can be manufactured, imported, distributed, and sold only with the BIS Certification Mark. FSSAI has issued these directions because feed and fodder are the primary sources of pollutants; FSSAI saw the necessity for regulatory oversight of animal feeds.
The Government of India's (GOI) & Food Safety and Standards Authority of India extended the deadline for stakeholders to implement the Bureau of Indian Standards (BIS) provision that is to carry BIS Certification mark on the product label for commercial feeds/feed ingredients meant for meat and milk-producing animals till January 1, 2021. But due to the COVID-19 epidemic and consequent state-wide lockdown in early 2020; the deadline was extended to July 1, 2021, to satisfy demands from industry stakeholders. However, due to the second wave of the covid-19 epidemic, stakeholders faced difficulty in acquiring the Certification/licensing. They requested BIS for further extension of time to comply with the provisions of BIS.
BIS has been decided to extend the timeline for compliance with the provisions of the direction as mentioned above for those businesses whose applications for BIS Certification/licensing of their product are currently pending until January 1, 2022.
All manufactures of commercial feeds/feed materials must obtain BIS Licence at its earliest, and their product label must bear the BIS Certification mark before 1st January 2022, and it should conform to Indian Standard IS 2052:2019.
Also Read: BIS CERTIFICATION FOR COMPOUNDED CATTLE FEEDS IS 2052:2009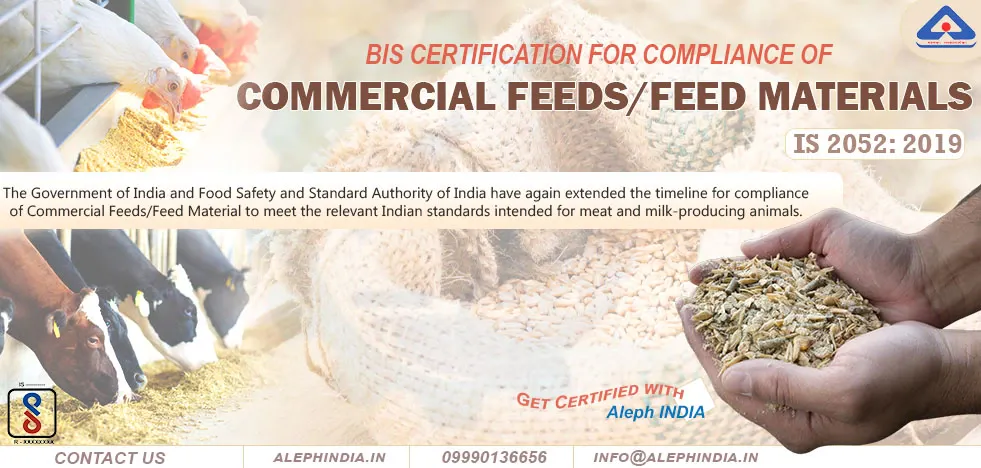 Aleph INDIA is always there for you to provide the finest result at any time, get in touch with us.
For any query regarding BIS Certification, Product testing, Compliance, Auditing, etc. get in touch with us at +91 9990136656
Click Here for BIS Latest Updates